SPECIFICATION AND FITMENT
High Beam:

 

9005(Not included)

Low Beam:

 

H11-55W, 9006 (Not included)
PART NUMBER :

 

7221-0028L 7221-0028R
OEM :

 

33150-TA0-A01 33100-TA0-A01
PARTSLINK :

 

HO2502130 HO2503130
HOLLANDER :

 

114-50556L 114-50554R
Package include: 2 x Headlights (1x Driver's side & 1x passenger's side),bulbs are Not included

Compatible with:
2008 2009 2010 2011 2012 Honda Accord 4-Door Sedan Models

Not Compatible w/ 2-Door Coupe Models
How to Adjust Your Headlights
Before taking your vehicle out on the road, make sure to first properly adjust your headlights. Park your vehicle on a level surface about 10 to 25 feet from a wall and turn on the headlights. The brightest part of the beams should not be any higher than 3.5 feet above the ground. Follow the steps below to make adjustments:
1. Find the adjustment screws. First, locate the adjustment screws on your vehicle.
2. Adjust the headlights individually. The headlights should be adjusted one at a time. Put a towel over a chair in front of the light you want to block. Covering the light directly can damage the plastic lens.
3. Adjust the vertical field. The screw-on top of the light housing should be turned clockwise to raise the light and counterclockwise to lower the light. The headlight should be adjusted until the top of the most intense part of the beam shines directly on or just below the center of the tape line on the wall.
4. Adjust the horizontal field. The screw on the side of the light housing should be turned to adjust the headlight laterally. Adjust the lens so that the most intense part of the beam shines to the right of the vertical line.
5. Test your results.
Working headlights are a critical component of any vehicle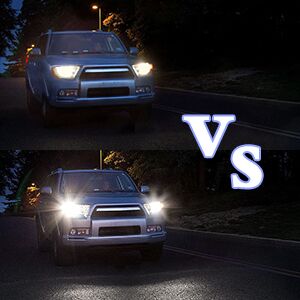 New VS Old
A new set of headlights from YITAMOTOR will allow you to see the road in front of you clearly at night and in any bad weather that may arise.
• Keeps you and your family safe when driving at night.
• Makes your car look newer.
• Increases visibility of road markings and traffic signs.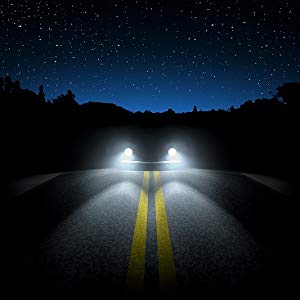 See farther. See wider, See better
Driving at night in itself can be a scary proposition, it's much scarier if you can't even see the road!
A dim, cloudy, yellowed, or otherwise damaged or non-functioning headlight makes driving dangerous, which not only puts your safety but also the safety of others at risk.
California Residents: Prop 65 Warning
WARNING: Cancer and Reproductive Harm
Visit: www.p65warnings.ca.gov
Free shipping on all orders. No minimum purchase.
It normally takes 1-2 business days for us to process your order. Please note that this does not include holidays and weekends.
Shipping time will normally cost 2-8 business days. Shipping time is estimated and commences from the date of shipping, rather than the date of the order, and can take longer than expected date due to the invalid address, customs clearance procedures or other causes.
For large items such as bumpers, tonneau covers, we generally delivery by Fedex and P.O.Box will not be available for shipping.