Note: Please measure the size of your exhaust pipe prior to purchase of this exhaust tip.
Specification:
Inlet Size: 2.5 Inch Inside Diameter

Outlet Size: 4 Inch Outer Diameter

Length: 9 Inch Overall Length

Material: Chrome-Plated Finish Stainless Steel

Package: 1 Piece Exhaust Tip
Protect the Original Tailpipe:
Protect the original exhaust pipe from sun and rain to prevent rusting and deformation.
Nice Looking: 

The chrome-plated finish, bright as a mirror, makes the exhaust tip look shiny, and decorates your car nicely.
Note:
Please measure the size of your exhaust pipe prior to purchase of this exhaust tip.
Installation Steps:
Step 1: Clean the surface of your tailpipe.
Clean the dirt and sand on your tailpipe with penetrating oil and a shop rag.

(Make sure your tailpipe is at room temperature, and do not clean the surface of the tailpipe after the car just went out).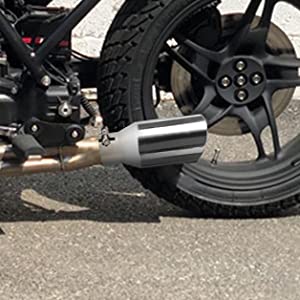 Step 2: Slide the exhaust tip into your tailpipe.
Try to slide the exhaust tip into the tailpipe. You may encounter some resistance, so, if necessary, use automotive grease to lubricate the pieces.

Cover the end of the exhaust tip with a towel and tap it into a place with a rubber mallet.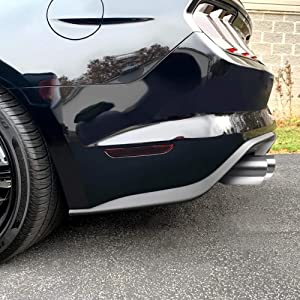 Step 3: Fasten/weld the exhaust tip.
Tighten screws and clamps to secure the exhaust tips. Should you worry that it is not tight enough, you can weld a joint between the edges of the tailpipe and the exhaust tip.

Then, The Installation Is Complete.
Shipping
Your items will be shipped from our 4 warehouses located in WA, CA, NJ, GA, depend on your address. Read more here
1.Item processing time
After receiving your order, we will take some time to process the products to ensure their quality. In addition, the item's stock status will also affect our delivery. The specific processing time will vary for different products, the average processing time is 2 working days while larger quantity orders may require 2-5 days, but we guarantee that the order will be processed and shipped as soon as possible.
2. Shipping Methods and Shipping Time
YITAMOTOR has established 4 warehouses in the USA,and provides Free Shipping service in the whole united states except for states of HI, PR, AK, GU, and APO/FPO. Shipping from the warehouse nearest to shipping address to shorten delivery time. In order to improve our customer shopping experience, we promise NO ADDITIONAL CHARGES. If you purchase a pre-sale product, The order will be shipped within 1-2 working days when it is in stock.
Free Shipping

A

B

Shipping Methods

FEDEX Ground

FEDEX Home

Working Time

Mon. to Fri.

Mon. to Sun.

Delivery Time

3-7 Days

4-7 Days

Delivery to States
(A-Z)

Alabama, Arizona, Arkansas, California, Colorado, Connecticut, Delaware, Florida, Georgia, Idaho, Illinois, Indiana, Iowa, Kansas, Kentucky, Lousiana, Maine, Maryland,

 

Massachusetts, Michigan, Minnesota, Mississippi, Missouri, Montana, Nebraska,Nevada, New Hampshire, New Jersey, New Mexico, New York, North Carolina, North Dakota, Ohio, Oklahoma, Oregon, Pennsylvania, Rhode Island, South Carolina, South Dakota, Tennessee, Texas, Utah, Vermont, Virginia, Washington, West Virginia, Wisconsin, Wyoming.

 
Note: Shipment dates on all orders are estimated, delay may happen cause of force majeure, natural disasters, inclement weather, war, public holidays, and others out of our control factors.
Return
At Yitamotor, we're committed to you. Our quality control teams will inspect your items prior to shipping to assure your satisfaction, and the quality is guaranteed.
Read more here