Note: Please measure the size of your exhaust pipe prior to purchase of this exhaust tip.
Specification:
Inlet Size: 2.5 Inch Inside Diameter

Outlet Size: 4 Inch Outer Diameter

Length: 12 Inch Overall Length

Material: Black Paint Finish Stainless Steel

Package: 2 piece exhaust tip.
Protect the Original Tailpipe:
Protect the original exhaust pipe from sun and rain to prevent rusting and deformation.
Nice Looking:
The black painting finish, elegant and mysterious, perfectly decorates the tailpipe of your car.
Installation Steps: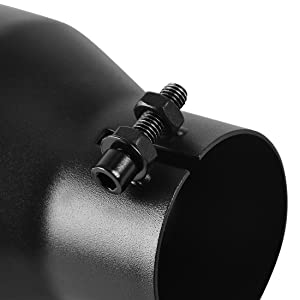 Step 1: Clean the surface of your tailpipe.
Clean the dirt and sand on your tailpipe with penetrating oil and a shop rag.

(Make sure your tailpipe is at room temperature, and do not clean the surface of the tailpipe after the car just went out)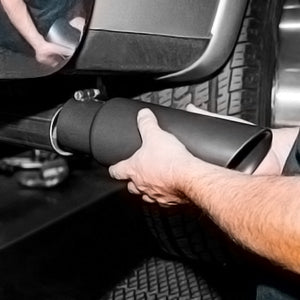 Step 2: Slide the exhaust tip into your tailpipe.
Try to slide the exhaust tip into the tailpipe. You may encounter some resistance, so, if necessary, use automotive grease to lubricate the pieces if necessary.

Cover the end of the exhaust tip with a towel and tap it into a place with a rubber mallet.
Step 3: Fasten / weld the exhaust tip.
Tighten screws and clamps to secure the exhaust tips. Should you worry that it is not tight enough, you can weld a joint between the edges of the tailpipe and the exhaust tip.

THEN, THE INSTALLATION IS COMPLETE.
Free shipping on all orders. No minimum purchase.
It normally takes 1-2 business days for us to process your order. Please note that this does not include holidays and weekends.
Shipping time will normally cost 2-8 business days. Shipping time is estimated and commences from the date of shipping, rather than the date of the order, and can take longer than expected date due to the invalid address, customs clearance procedures or other causes.
For large items such as bumpers, tonneau covers, we generally delivery by Fedex and P.O.Box will not be available for shipping.