HEADLIGHTS
Specifications
OEM Part Number: 22853025, 22853026

Partslink: GM2502263, GM2503263

Color: Black Housing/Amber Reflector

High Beam: H1(Bulbs not included)

Low Beam: H1

(Bulbs not included)
FOG LIGHTS
Specifications
OEM Part Number: 15839896, 7R3Z15200A

Partslink: FO2590111, GM2590104

Bulb Type: 5202 Halogen Bulb

Wiring Kit: Not included

Street Approve: DOT/SAE approved

Color: Black housing w/ smoke lens
COMPATIBLE WITH
2007-2013 Chevy Avalanche

2007-2014 Chevy Suburban 1500

2007-2013 Chevy Suburban 2500

2007-2014 Chevy Tahoe
How to Adjust the Headlights?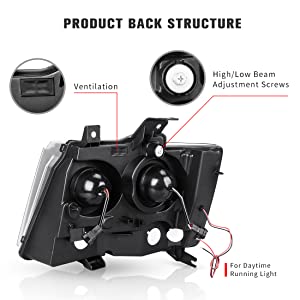 Before taking your vehicle out on the road, make sure to first properly adjust your headlights. Park your vehicle on a level surface about 10 to 25 feet from a wall and turn on the headlights. The brightest part of the beams should not be any higher than 3.5 feet above the ground. Follow the steps below to make adjustments:
1. Find the adjustment screws. First, locate the adjustment screws on your vehicle.
2. Adjust the headlights individually. The headlights should be adjusted one at a time. Put a towel over a chair in front of the light you want to block. Covering the light directly can damage the plastic lens.
3. Adjust the vertical field. The screw-on top of the light housing should be turned clockwise to raise the light and counterclockwise to lower the light. The headlight should be adjusted until the top of the most intense part of the beam shines directly on or just below the center of the tape line on the wall.
4. Test the result.
FOG LIGHT INSTALLATION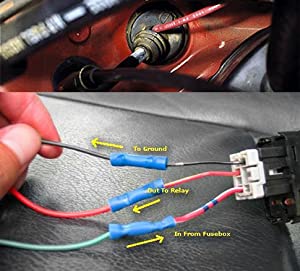 Note:
Most vehicles have a hole in the firewall pre-drilled at the factory for the purpose of running wires from under the hood to the interior.

Installation:
1. Closely check your existing fog light assembly.
2. Remove the wiring harness from the fog light assembly.
3. Take out the mounting screws of your old fog light assembly. These screws are normally found at the back of the fog light assembly.
4. Take out the fog light assembly from your automobile.
5. Get your new fog light and install it on your vehicle using the mounting screws that you removed earlier.
6. Tighten the mounting screws just enough to keep your new fog light assembly securely installed. Be careful not to tighten the screws too much or they might cause damage to the assembly.
7. Get the wiring harness connected to your new fog light assembly.
8. Switch the fog lights on to see if they are working properly.
Free shipping on all orders. No minimum purchase.
It normally takes 1-2 business days for us to process your order. Please note that this does not include holidays and weekends.
Shipping time will normally cost 2-8 business days. Shipping time is estimated and commences from the date of shipping, rather than the date of the order, and can take longer than expected date due to the invalid address, customs clearance procedures or other causes.
For large items such as bumpers, tonneau covers, we generally delivery by Fedex and P.O.Box will not be available for shipping.