Fitment
Compatible with 2006-2011 Honda Civic Hybrid/Hybrid-L/DX/EX/EX-L/GX/LX/LX-S/MUGEN Si/Si - Sedan 4-Door

Meets OEM # 80110-SNA-A01; 80110-SNA-A02; 80110-SNA-A42; 80110-SNA-A41
Specifications:
Configuration: Parallel Flow Condenser
Includes:with Receiver Drier
Core Length:26.4"
Core Thickness: 0.6"
Core Width:16"
Cross flow/ Down flow: Cross flow
No. of Rows: 1
Radiator Cap Supplied: No
Radiator Cap Supplied: No
Inlet Length:40.9cm/16.10inch
Inlet Diameter:1.9cm/0.748inch
Outlet Length:31cm/12.20inch
Outlet Diameter:3.2cm/11.259inch
Top Hose Length:3.4CM/1.338inch
Bottom Hose Length:4.2CM/1.653inch
Condenser Mesh Length:62cm/24.409inch
Know Before Buying:
your condenser is leaking, restricted, or otherwise damaged, you know you need to get a new one right away. 
ALL condensers are packaging tested to let you avoid packaged trouble,such as:no bent fins / fin was bent/Received with lots of damage.
If the package Arrived with on the side with the AC line fittings bent. Don't worry, the aluminum is easily straightened, and there was no functional damage. It will mounte up and connecte just fine.If you are still worry it,contact us .we will give one solution.
Premium grade aluminum tubes, brackets, curved hoses and fittings are designed to OE specifications
Our superior quality is All Condensers are similar to OE in their construction., providing years of trouble-free service.
Meticulous packaging and full-on protection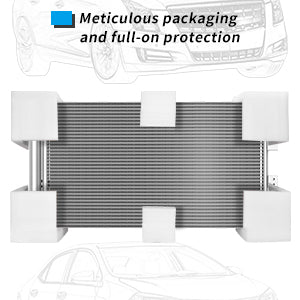 Product is packed in durable carton and surrounded by ultra shock-absorbing pearl cotton. Ensure the product arrives in perfect condition

100% new components, nothing used or refurbished

100% visual- & leak-tested to ensure the component's quality and durability
Outstanding cooling efficiency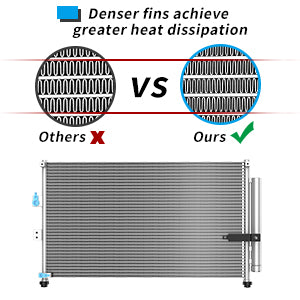 Denser fins achieve greater heat dissipation
Our products contain fins with larger surface area that maximizes heat dissipation efficiency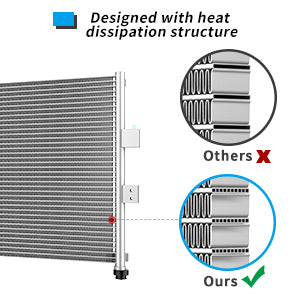 Designed with heat dissipation structure
Our products are built with thin thermal tubes that allow the refrigerant to actively dissipate heat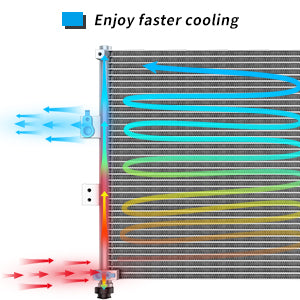 Enjoy faster cooling
Our state-of-the-art heat sinks allow for quicker air-conditioned cooling. Greet yourself with immediate cooling relief the second you get into your vehicle on hot summer days
Free shipping on all orders. No minimum purchase.
It normally takes 1-2 business days for us to process your order. Please note that this does not include holidays and weekends.
Shipping time will normally cost 2-8 business days. Shipping time is estimated and commences from the date of shipping, rather than the date of the order, and can take longer than expected date due to the invalid address, customs clearance procedures or other causes.
For large items such as bumpers, tonneau covers, we generally delivery by Fedex and P.O.Box will not be available for shipping.