Product Description
Failure of the air conditioning compressor is common because moisture or clogs in the air conditioning system will place high stress on the compressor. Compressor clutch failure is much more common on older vehicles, but some modern compressors still utilize an A/C compressor clutch to turn the compressor on and off. In general, A/C compressors tend to fail after 60,000-70,000 miles, but that time may be lengthened depending on use, demand, and operating conditions.
Fitment
2003-2006 Acura MDX 3.5L
2004-2008 Acura TL 3.2L
2007-2008 Acura TL 3.5L
2003-2007 Honda Accord 3.0L
2005-2007 Honda Odyssey 3.5L
2005-2008 Honda Pilot 3.5L
2006-2008 Honda Ridgeline 3.5L


Features
According to the original factory specifications.




Perfectly fits the original car.




Stable characteristics, high reliability.

Simple to installation
Durability
NOTE: Each AC air compressor comes with 100ML of Oil. You don't need to add oil additionally.
Attention

 


Be sure to clean the air conditioning system before installation, otherwise, it will cause compression broken
Installation
1. Remove compressor: Remove the A/C belt from the A/C compressor pulley. May involve loosening the belt tensioner (if equipped).
2. Receiver drier or accumulator, orifice tube, or expansion valve.
3. Disconnect the negative battery cable.
4. Remove the bolt that secures refrigerant lines to the A/C compressor. Inspect A/C lines for any contamination such as metal or excessive dirt inside of them. If you find any contamination the system will need to be cleaned. Flush the condenser and evaporator using NON-OIL BASED A/C flush. On expansion valve systems. The valve must be removed before the evaporator can be flushed. Flushed condensers from outlet to inlet and evaporators from inlet to outlet.
5. Drain all the oil from the new compressor, if your compressor has a drain plug you will need to open it up and drain what oil is in there too.
6. Install half oil charge into the compressor and the remainder throughout the system. Turn compressor shaft 8-10 full revolutions to insure front seal and other internal parts are lubricated.
7. Install new receiver drier or accumulator and new orifice tube or expansion valve.
8. Evacuate the A/C system for a minimum of one hour.
9. After evacuation installs half the refrigerant charge and lets the system set for 1 minute. This will allow the refrigerant to pick up oil and spread it more evenly throughout the system.
10. Turn on the A/C system with the engine running and check to see if cold air is now coming out of the air duct.
11. If the A/C system is functioning, you may find that your electric radiator fan and compressor clutch will be cycling off and on depending on the outside air temperature.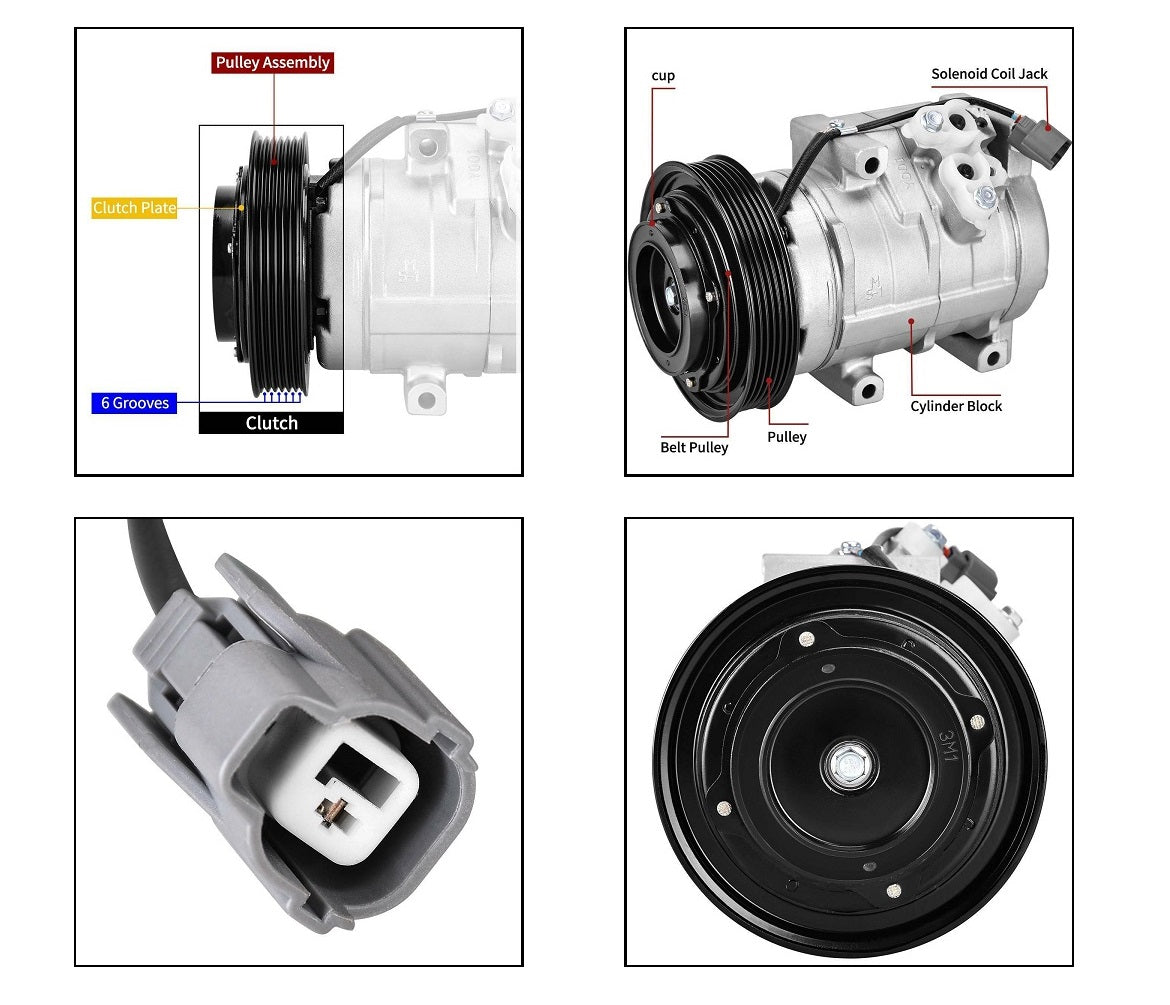 Shipping
Your items will be shipped from our 6 warehouses located in WA, CA, NJ, GA, NJ, TX, depend on your address. Read more here
1.Item processing time
After receiving your order, we will take some time to process the products to ensure their quality. In addition, the item's stock status will also affect our delivery. The specific processing time will vary for different products, the average processing time is 2 working days while larger quantity orders may require 2-5 days, but we guarantee that the order will be processed and shipped as soon as possible.
2. Shipping Methods and Shipping Time
YITAMOTOR has established 6 warehouses in the USA,and provides Free Shipping service in the whole united states except for states of HI, PR, AK, GU, and APO/FPO. Shipping from the warehouse nearest to shipping address to shorten delivery time. In order to improve our customer shopping experience, we promise NO ADDITIONAL CHARGES. If you purchase a pre-sale product, The order will be shipped within 1-2 working days when it is in stock.
Free Shipping

A

B

Shipping Methods

FEDEX Ground

FEDEX Home

Working Time

Mon. to Fri.

Mon. to Sun.

Delivery Time

3-7 Days

4-7 Days

Delivery to States
(A-Z)

Alabama, Arizona, Arkansas, California, Colorado, Connecticut, Delaware, Florida, Georgia, Idaho, Illinois, Indiana, Iowa, Kansas, Kentucky, Lousiana, Maine, Maryland,

 

Massachusetts, Michigan, Minnesota, Mississippi, Missouri, Montana, Nebraska,Nevada, New Hampshire, New Jersey, New Mexico, New York, North Carolina, North Dakota, Ohio, Oklahoma, Oregon, Pennsylvania, Rhode Island, South Carolina, South Dakota, Tennessee, Texas, Utah, Vermont, Virginia, Washington, West Virginia, Wisconsin, Wyoming.

 
Note: Shipment dates on all orders are estimated, delay may happen cause of force majeure, natural disasters, inclement weather, war, public holidays, and others out of our control factors.
Return
At Yitamotor, we're committed to you. Our quality control teams will inspect your items prior to shipping to assure your satisfaction, and the quality is guaranteed.
Read more here

Specifications

| | |
| --- | --- |
| Brand | YITAMOTOR |
| Placement on Vehicle | Front |
| Type | A/C Compressor Clutch |
| Number of grooves | 6 |
| Interchange Part Number | CO 10736C,6512102 |
| Interchange Part Number 1 | 38810RCAA01, 38810RDAA01, 38810RDJA01, 38810RGLA01 |
| Other Part Number | 1462007830 ; 146200-7830,  38800RDAA012 ; 38800RDJA01, 38800RDJA012 ; 38800RDJA012M1, 38800RDJA02 ; 38800RDJA023, 38800RGLA02 ; 38800RGLA021, 38800RGM5050 ; 38800RJEA02, 38800RJEA021 ; 38800RYP5050;  38810RCJA01 ; 38810RCJA02, 4372305040 ; 437230-5040, 4472204091 ; 447220-4091 |
| Package Includes | 1 x Air Conditioner Compressor |
| Warranty | 1 Year |