Conventional installation location
There are no restrictions on the installation of long lights, as long as there are locations to install.
Measure the size of the installation location
Focus on car lighting upgrade, with LED car lights R & D to create a complete system.
Spectral Parameter
Triple row Led bead design improves 30%-40% extra brightness

Highlight pan beam illumination at 180 degrees and 90-degree vertical coverage.

High power chips are upgraded with lower energy consumption, higher brightness, and longer life

Using aluminum alloy fence design, the heat conduction is faster and the heat dissipation effect is 

very ideal.
Normal Product
Ordinary products are dimly lit, and the range of illumination is small

Our led beads are softer, less dazzling, safer, proof of, and corrosion resistant, and can be used in heavy rain or harsh environments.
Our Triple Row Light Bar
See clearly Fang can respond ahead, driving at night, the importance of lights is self-evident, night travel should also be like a day.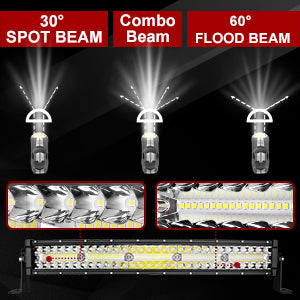 Combo Beam
30°Spot Beam

Throws focused light to add punch down the middle of the lane

Combo Beam

Subversive spot & flood optic system, high-density light spared makes dark night become daytime

60°Flood Beam

Produces a wide pool of general lighting like a thick light band
Free shipping on all orders. No minimum purchase.
It normally takes 1-2 business days for us to process your order. Please note that this does not include holidays and weekends.
Shipping time will normally cost 2-8 business days. Shipping time is estimated and commences from the date of shipping, rather than the date of the order, and can take longer than expected date due to the invalid address, customs clearance procedures or other causes.
For large items such as bumpers, tonneau covers, we generally delivery by Fedex and P.O.Box will not be available for shipping.