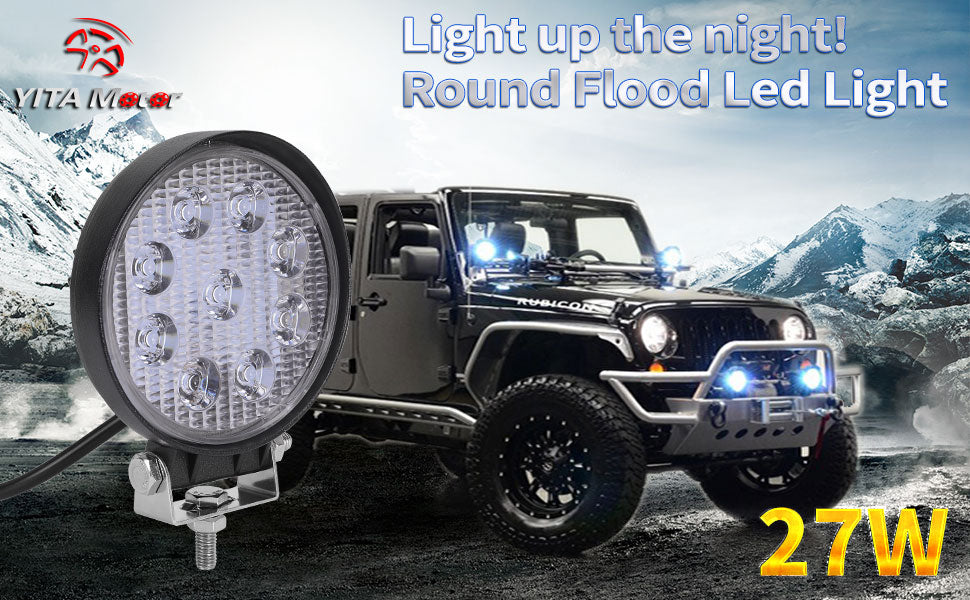 Product Description
Light up the night with YITAMOTOR 4inch 27W Spot Offroad Led Light, the durable LED work light is waterproof and shock-resistant. A black-painted aluminum housing and polycarbonate lens protect internal components and an integral heat sink allows LEDs to run cool, which leads to an incredibly long life span. The LED work light is capable of being driven at 27watts with low power consumption. In addition, it comes with an adjustable mounting bracket, which makes changing the direction of the light beam easier.
Fitment
Compatible with almost all Jeeps, 4x4, trucks, tractors, trailers, golf carts, pickups, cars, motorcycles, SUVs, ATVs, and boats. Additionally, there are many indoor and outdoor uses: garden lighting, backyard lighting, backup light, off-road lighting, reverse lights, construction lighting, and more.
Features
4 inch Round LED Light bar is equipped with 9, three-watt high-intensity LEDs. That's a total of 27W with a 6,000k color temperature. This light bar will extend your field of vision, giving you a better driving experience.
Withstand Harsh Environment, Die-cast Aluminum Housing for Strength and Durability. Upgrade PC lens surface with high light transmission. Our 4 inch led pods have about 50,000hrs lifetime with IP67 rated Waterproof/dustproof/quakeproof, anti-corrosion for harsh environment.
In order to get the best heat dissipation, our square led light pods to take 1070 aluminum which can perform the best heat dissipation and best seal ability alloy as the heat sink and casing. The aluminum fan sharp design, makes it dissipate heat more faster and effective. Extend the lifespan of the light bar beyond 50,000 hours.
Adjustable Mounting Accessories
With adjustable mounting accessories, the work light can adjust to about 90 degrees, which makes changing the direction of the light beam easier. The lamp can be slid after install the accessory.
Specifications
| | |
| --- | --- |
| Brand | YITAMOTOR |
| Model | 4 inch led light spot |
| Power | 27W |
| Brightness | 2700LM |
| Working Voltage | DC 10-32V |
| Certificates | CE/RoHS/ IP68 |
| Color Temperature | White 6000K |
| Working Temperature | -40 to +85 ℃ /  -40 to +185℉ |
| Bulb Type | LED |
| Flood Comb Beam Angle | 60 Degrees |
| Package included | 2*4" led light spot + Mounting Brackets |
| Warranty | 3 Year |
Compatibility:
This part is compatible with 87 vehicle(s).
Year
Make
Model
Trim
Engine
Notes
2018
Chevrolet
Colorado
Base Extended Cab Pickup 4-Door
2.5L 2457CC 153Cu. In. l4 GAS DOHC Naturally Aspirated
2018
Chevrolet
Colorado
LT Crew Cab Pickup 4-Door
2.5L 2457CC 153Cu. In. l4 GAS DOHC Naturally Aspirated
2018
Chevrolet
Colorado
LT Crew Cab Pickup 4-Door
2.8L 171Cu. In. l4 DIESEL DOHC Turbocharged
2018
Chevrolet
Colorado
LT Crew Cab Pickup 4-Door
3.6L 217Cu. In. V6 GAS DOHC Naturally Aspirated
2018
Chevrolet
Colorado
LT Extended Cab Pickup 4-Door
2.5L 2457CC 153Cu. In. l4 GAS DOHC Naturally Aspirated
2018
Chevrolet
Colorado
LT Extended Cab Pickup 4-Door
2.8L 171Cu. In. l4 DIESEL DOHC Turbocharged
2018
Chevrolet
Colorado
LT Extended Cab Pickup 4-Door
3.6L 217Cu. In. V6 GAS DOHC Naturally Aspirated
2018
Chevrolet
Colorado
WT Crew Cab Pickup 4-Door
2.5L 2457CC 153Cu. In. l4 GAS DOHC Naturally Aspirated
2018
Chevrolet
Colorado
WT Crew Cab Pickup 4-Door
2.8L 171Cu. In. l4 DIESEL DOHC Turbocharged
2018
Chevrolet
Colorado
WT Crew Cab Pickup 4-Door
3.6L 217Cu. In. V6 GAS DOHC Naturally Aspirated
2018
Chevrolet
Colorado
WT Extended Cab Pickup 4-Door
2.5L 2457CC 153Cu. In. l4 GAS DOHC Naturally Aspirated
2018
Chevrolet
Colorado
WT Extended Cab Pickup 4-Door
2.8L 171Cu. In. l4 DIESEL DOHC Turbocharged
2018
Chevrolet
Colorado
WT Extended Cab Pickup 4-Door
3.6L 217Cu. In. V6 GAS DOHC Naturally Aspirated
2018
Chevrolet
Colorado
Z71 Crew Cab Pickup 4-Door
2.5L 2457CC 153Cu. In. l4 GAS DOHC Naturally Aspirated
2018
Chevrolet
Colorado
Z71 Crew Cab Pickup 4-Door
2.8L 171Cu. In. l4 DIESEL DOHC Turbocharged
2018
Chevrolet
Colorado
Z71 Crew Cab Pickup 4-Door
3.6L 217Cu. In. V6 GAS DOHC Naturally Aspirated
2018
Chevrolet
Colorado
Z71 Extended Cab Pickup 4-Door
2.5L 2457CC 153Cu. In. l4 GAS DOHC Naturally Aspirated
2018
Chevrolet
Colorado
Z71 Extended Cab Pickup 4-Door
2.8L 171Cu. In. l4 DIESEL DOHC Turbocharged
2018
Chevrolet
Colorado
Z71 Extended Cab Pickup 4-Door
3.6L 217Cu. In. V6 GAS DOHC Naturally Aspirated
2018
Chevrolet
Colorado
ZR2 Crew Cab Pickup 4-Door
2.8L 171Cu. In. l4 DIESEL DOHC Turbocharged
2018
Chevrolet
Colorado
ZR2 Crew Cab Pickup 4-Door
3.6L 217Cu. In. V6 GAS DOHC Naturally Aspirated
2018
Chevrolet
Colorado
ZR2 Extended Cab Pickup 4-Door
2.8L 171Cu. In. l4 DIESEL DOHC Turbocharged
2018
Chevrolet
Colorado
ZR2 Extended Cab Pickup 4-Door
3.6L 217Cu. In. V6 GAS DOHC Naturally Aspirated
2018
Chevrolet
Silverado 1500
Custom Crew Cab Pickup 4-Door
4.3L 262Cu. In. V6 FLEX OHV Naturally Aspirated
2018
Chevrolet
Silverado 1500
Custom Crew Cab Pickup 4-Door
5.3L 5328CC 325Cu. In. V8 FLEX OHV Naturally Aspirated
2018
Chevrolet
Silverado 1500
Custom Crew Cab Pickup 4-Door
5.3L 5328CC 325Cu. In. V8 GAS OHV Naturally Aspirated
2018
Chevrolet
Silverado 1500
Custom Extended Cab Pickup 4-Door
4.3L 262Cu. In. V6 FLEX OHV Naturally Aspirated
2018
Chevrolet
Silverado 1500
Custom Extended Cab Pickup 4-Door
5.3L 5328CC 325Cu. In. V8 FLEX OHV Naturally Aspirated
2018
Chevrolet
Silverado 1500
Custom Extended Cab Pickup 4-Door
5.3L 5328CC 325Cu. In. V8 GAS OHV Naturally Aspirated
2018
Chevrolet
Silverado 1500
High Country Crew Cab Pickup 4-Door
5.3L 5328CC 325Cu. In. V8 FLEX OHV Naturally Aspirated
2018
Chevrolet
Silverado 1500
High Country Crew Cab Pickup 4-Door
5.3L 5328CC 325Cu. In. V8 GAS OHV Naturally Aspirated
2018
Chevrolet
Silverado 1500
High Country Crew Cab Pickup 4-Door
6.2L 6162CC 376Cu. In. V8 GAS OHV Naturally Aspirated
2018
Chevrolet
Silverado 1500
LS Crew Cab Pickup 4-Door
4.3L 262Cu. In. V6 FLEX OHV Naturally Aspirated
2018
Chevrolet
Silverado 1500
LS Crew Cab Pickup 4-Door
5.3L 5328CC 325Cu. In. V8 FLEX OHV Naturally Aspirated
2018
Chevrolet
Silverado 1500
LS Crew Cab Pickup 4-Door
5.3L 5328CC 325Cu. In. V8 GAS OHV Naturally Aspirated
2018
Chevrolet
Silverado 1500
LS Extended Cab Pickup 4-Door
4.3L 262Cu. In. V6 FLEX OHV Naturally Aspirated
2018
Chevrolet
Silverado 1500
LS Extended Cab Pickup 4-Door
5.3L 5328CC 325Cu. In. V8 FLEX OHV Naturally Aspirated
2018
Chevrolet
Silverado 1500
LS Extended Cab Pickup 4-Door
5.3L 5328CC 325Cu. In. V8 GAS OHV Naturally Aspirated
2018
Chevrolet
Silverado 1500
LS Standard Cab Pickup 2-Door
4.3L 262Cu. In. V6 FLEX OHV Naturally Aspirated
2018
Chevrolet
Silverado 1500
LS Standard Cab Pickup 2-Door
5.3L 5328CC 325Cu. In. V8 FLEX OHV Naturally Aspirated
2018
Chevrolet
Silverado 1500
LS Standard Cab Pickup 2-Door
5.3L 5328CC 325Cu. In. V8 GAS OHV Naturally Aspirated
2018
Chevrolet
Silverado 1500
LT Crew Cab Pickup 4-Door
4.3L 262Cu. In. V6 FLEX OHV Naturally Aspirated
2018
Chevrolet
Silverado 1500
LT Crew Cab Pickup 4-Door
5.3L 5328CC 325Cu. In. V8 ELECTRIC/GAS OHV Naturally Aspirated
2018
Chevrolet
Silverado 1500
LT Crew Cab Pickup 4-Door
5.3L 5328CC 325Cu. In. V8 FLEX OHV Naturally Aspirated
2018
Chevrolet
Silverado 1500
LT Crew Cab Pickup 4-Door
5.3L 5328CC 325Cu. In. V8 GAS OHV Naturally Aspirated
2018
Chevrolet
Silverado 1500
LT Extended Cab Pickup 4-Door
4.3L 262Cu. In. V6 FLEX OHV Naturally Aspirated
2018
Chevrolet
Silverado 1500
LT Extended Cab Pickup 4-Door
5.3L 5328CC 325Cu. In. V8 ELECTRIC/GAS OHV Naturally Aspirated
2018
Chevrolet
Silverado 1500
LT Extended Cab Pickup 4-Door
5.3L 5328CC 325Cu. In. V8 FLEX OHV Naturally Aspirated
2018
Chevrolet
Silverado 1500
LT Extended Cab Pickup 4-Door
5.3L 5328CC 325Cu. In. V8 GAS OHV Naturally Aspirated
2018
Chevrolet
Silverado 1500
LT Standard Cab Pickup 2-Door
4.3L 262Cu. In. V6 FLEX OHV Naturally Aspirated
2018
Chevrolet
Silverado 1500
LT Standard Cab Pickup 2-Door
5.3L 5328CC 325Cu. In. V8 ELECTRIC/GAS OHV Naturally Aspirated
2018
Chevrolet
Silverado 1500
LT Standard Cab Pickup 2-Door
5.3L 5328CC 325Cu. In. V8 FLEX OHV Naturally Aspirated
2018
Chevrolet
Silverado 1500
LT Standard Cab Pickup 2-Door
5.3L 5328CC 325Cu. In. V8 GAS OHV Naturally Aspirated
2018
Chevrolet
Silverado 1500
LTZ Crew Cab Pickup 4-Door
5.3L 5328CC 325Cu. In. V8 ELECTRIC/GAS OHV Naturally Aspirated
2018
Chevrolet
Silverado 1500
LTZ Crew Cab Pickup 4-Door
5.3L 5328CC 325Cu. In. V8 GAS OHV Naturally Aspirated
2018
Chevrolet
Silverado 1500
LTZ Crew Cab Pickup 4-Door
6.2L 6162CC 376Cu. In. V8 GAS OHV Naturally Aspirated
2018
Chevrolet
Silverado 1500
LTZ Extended Cab Pickup 4-Door
5.3L 5328CC 325Cu. In. V8 ELECTRIC/GAS OHV Naturally Aspirated
2018
Chevrolet
Silverado 1500
LTZ Extended Cab Pickup 4-Door
5.3L 5328CC 325Cu. In. V8 GAS OHV Naturally Aspirated
2018
Chevrolet
Silverado 1500
LTZ Extended Cab Pickup 4-Door
6.2L 6162CC 376Cu. In. V8 GAS OHV Naturally Aspirated
2018
Chevrolet
Silverado 1500
SSV Crew Cab Pickup 4-Door
5.3L 5328CC 325Cu. In. V8 FLEX OHV Naturally Aspirated
2018
Chevrolet
Silverado 1500
SSV Crew Cab Pickup 4-Door
5.3L 5328CC 325Cu. In. V8 GAS OHV Naturally Aspirated
2018
Chevrolet
Silverado 1500
WT Crew Cab Pickup 4-Door
4.3L 262Cu. In. V6 FLEX OHV Naturally Aspirated
2018
Chevrolet
Silverado 1500
WT Crew Cab Pickup 4-Door
5.3L 5328CC 325Cu. In. V8 FLEX OHV Naturally Aspirated
2018
Chevrolet
Silverado 1500
WT Crew Cab Pickup 4-Door
5.3L 5328CC 325Cu. In. V8 GAS OHV Naturally Aspirated
2018
Chevrolet
Silverado 1500
WT Extended Cab Pickup 4-Door
4.3L 262Cu. In. V6 FLEX OHV Naturally Aspirated
2018
Chevrolet
Silverado 1500
WT Extended Cab Pickup 4-Door
5.3L 5328CC 325Cu. In. V8 FLEX OHV Naturally Aspirated
2018
Chevrolet
Silverado 1500
WT Extended Cab Pickup 4-Door
5.3L 5328CC 325Cu. In. V8 GAS OHV Naturally Aspirated
2018
Chevrolet
Silverado 1500
WT Standard Cab Pickup 2-Door
4.3L 262Cu. In. V6 FLEX OHV Naturally Aspirated
2018
Chevrolet
Silverado 1500
WT Standard Cab Pickup 2-Door
5.3L 5328CC 325Cu. In. V8 FLEX OHV Naturally Aspirated
2018
Chevrolet
Silverado 1500
WT Standard Cab Pickup 2-Door
5.3L 5328CC 325Cu. In. V8 GAS OHV Naturally Aspirated
2018
Dodge
Challenger
Dual Stripes Coupe 2-Door
3.6L 3604CC 220Cu. In. V6 GAS DOHC Naturally Aspirated
2018
Dodge
Challenger
Edicion Especial Coupe 2-Door
6.4L 6424CC 392Cu. In. V8 GAS OHV Naturally Aspirated
2018
Dodge
Challenger
GT Coupe 2-Door
3.6L 3604CC 220Cu. In. V6 GAS DOHC Naturally Aspirated
2018
Dodge
Challenger
R/T 392 Coupe 2-Door
6.4L 6424CC 392Cu. In. V8 GAS OHV Naturally Aspirated
2018
Dodge
Challenger
R/T Coupe 2-Door
5.7L 345Cu. In. V8 GAS OHV Naturally Aspirated
2018
Dodge
Challenger
Scat Pack Coupe 2-Door
6.4L 6424CC 392Cu. In. V8 GAS OHV Naturally Aspirated
2018
Dodge
Challenger
SRT 392 Coupe 2-Door
6.4L 6424CC 392Cu. In. V8 GAS OHV Naturally Aspirated
2018
Dodge
Challenger
SRT Coupe 2-Door
6.2L 6166CC 376Cu. In. V8 GAS OHV Supercharged
2018
Dodge
Challenger
SRT Demon Coupe 2-Door
6.2L 6166CC 376Cu. In. V8 GAS OHV Supercharged
2018
Dodge
Challenger
SRT Hellcat Coupe 2-Door
6.2L 6166CC 376Cu. In. V8 GAS OHV Supercharged
2018
Dodge
Challenger
SXT Coupe 2-Door
3.6L 3604CC 220Cu. In. V6 GAS DOHC Naturally Aspirated
2018
Dodge
Challenger
SXT Plus Coupe 2-Door
3.6L 3604CC 220Cu. In. V6 GAS DOHC Naturally Aspirated
2018
Dodge
Challenger
T/A 392 Coupe 2-Door
6.4L 6424CC 392Cu. In. V8 GAS OHV Naturally Aspirated
2018
Dodge
Challenger
T/A Coupe 2-Door
5.7L 345Cu. In. V8 GAS OHV Naturally Aspirated
2018
Dodge
Journey
Canada Value Package Sport Utility 4-Door
2.4L 2360CC 144Cu. In. l4 GAS DOHC Naturally Aspirated
2018
Dodge
Journey
Crossroad Sport Utility 4-Door
2.4L 2360CC 144Cu. In. l4 GAS DOHC Naturally Aspirated
2018
Dodge
Journey
Crossroad Sport Utility 4-Door
3.6L 3604CC 220Cu. In. V6 FLEX DOHC Naturally Aspirated
2018
Dodge
Journey
GT Sport Utility 4-Door
3.6L 3604CC 220Cu. In. V6 FLEX DOHC Naturally Aspirated
2018
Dodge
Journey
GT Sport Utility 4-Door
3.6L 3604CC 220Cu. In. V6 GAS DOHC Naturally Aspirated
2018
Dodge
Journey
SE Sport Utility 4-Door
2.4L 2360CC 144Cu. In. l4 GAS DOHC Naturally Aspirated
2018
Dodge
Journey
SE Sport Utility 4-Door
3.6L 3604CC 220Cu. In. V6 FLEX DOHC Naturally Aspirated
2018
Dodge
Journey
Sport Sport Utility 4-Door
2.4L 2360CC 144Cu. In. l4 GAS DOHC Naturally Aspirated
2018
Dodge
Journey
SXT Lujo Sport Utility 4-Door
2.4L 2360CC 144Cu. In. l4 GAS DOHC Naturally Aspirated
2018
Dodge
Journey
SXT Sport Utility 4-Door
2.4L 2360CC 144Cu. In. l4 GAS DOHC Naturally Aspirated
2018
Dodge
Journey
SXT Sport Utility 4-Door
3.6L 3604CC 220Cu. In. V6 FLEX DOHC Naturally Aspirated
2018
Toyota
4Runner
Base Sport Utility 4-Door
4.0L 3956CC 241Cu. In. V6 GAS DOHC Naturally Aspirated
2018
Toyota
4Runner
Limited Sport Utility 4-Door
4.0L 3956CC 241Cu. In. V6 GAS DOHC Naturally Aspirated
2018
Toyota
4Runner
SR5 Sport Utility 4-Door
4.0L 3956CC 241Cu. In. V6 GAS DOHC Naturally Aspirated
2018
Toyota
4Runner
TRD Off-Road Sport Utility 4-Door
4.0L 3956CC 241Cu. In. V6 GAS DOHC Naturally Aspirated
2018
Toyota
4Runner
TRD Pro Sport Utility 4-Door
4.0L 3956CC 241Cu. In. V6 GAS DOHC Naturally Aspirated
2018
Toyota
Highlander
Hybrid LE Sport Utility 4-Door
3.5L 3456CC V6 ELECTRIC/GAS DOHC Naturally Aspirated
2018
Toyota
Highlander
Hybrid Limited Sport Utility 4-Door
3.5L 3456CC V6 ELECTRIC/GAS DOHC Naturally Aspirated
2018
Toyota
Highlander
Hybrid XLE Sport Utility 4-Door
3.5L 3456CC V6 ELECTRIC/GAS DOHC Naturally Aspirated
2018
Toyota
Highlander
LE Sport Utility 4-Door
2.7L 2672CC 163Cu. In. l4 GAS DOHC Naturally Aspirated
2018
Toyota
Highlander
LE Sport Utility 4-Door
3.5L 3456CC V6 GAS DOHC Naturally Aspirated
2018
Toyota
Highlander
Limited Sport Utility 4-Door
3.5L 3456CC V6 GAS DOHC Naturally Aspirated
2018
Toyota
Highlander
SE Sport Utility 4-Door
3.5L 3456CC V6 GAS DOHC Naturally Aspirated
2018
Toyota
Highlander
XLE Sport Utility 4-Door
3.5L 3456CC V6 GAS DOHC Naturally Aspirated
2018
Toyota
Land Cruiser
Base Sport Utility 4-Door
5.7L 5663CC 345Cu. In. V8 GAS DOHC Naturally Aspirated
2018
Toyota
Land Cruiser
VX-R Sport Utility 4-Door
5.7L 5663CC 345Cu. In. V8 GAS DOHC Naturally Aspirated
2018
Toyota
RAV4
Adventure Sport Utility 4-Door
2.5L 2494CC 152Cu. In. l4 GAS DOHC Naturally Aspirated
2018
Toyota
RAV4
Hybrid LE+ Sport Utility 4-Door
2.5L 2494CC 152Cu. In. l4 ELECTRIC/GAS DOHC Naturally Aspirated
2018
Toyota
RAV4
Hybrid Limited Sport Utility 4-Door
2.5L 2494CC 152Cu. In. l4 ELECTRIC/GAS DOHC Naturally Aspirated
2018
Toyota
RAV4
Hybrid SE Sport Utility 4-Door
2.5L 2494CC 152Cu. In. l4 ELECTRIC/GAS DOHC Naturally Aspirated
2018
Toyota
RAV4
Hybrid XLE Sport Utility 4-Door
2.5L 2494CC 152Cu. In. l4 ELECTRIC/GAS DOHC Naturally Aspirated
2018
Toyota
RAV4
LE Sport Utility 4-Door
2.5L 2494CC 152Cu. In. l4 GAS DOHC Naturally Aspirated
2018
Toyota
RAV4
Limited Sport Utility 4-Door
2.5L 2494CC 152Cu. In. l4 GAS DOHC Naturally Aspirated
2018
Toyota
RAV4
Platinum Sport Utility 4-Door
2.5L 2494CC 152Cu. In. l4 GAS DOHC Naturally Aspirated
2018
Toyota
RAV4
SE Sport Utility 4-Door
2.5L 2494CC 152Cu. In. l4 GAS DOHC Naturally Aspirated
2018
Toyota
RAV4
XLE Sport Utility 4-Door
2.5L 2494CC 152Cu. In. l4 GAS DOHC Naturally Aspirated
2017
Chevrolet
Colorado
Base Extended Cab Pickup 4-Door
2.5L 2457CC 153Cu. In. l4 GAS DOHC Naturally Aspirated
2017
Chevrolet
Colorado
LT Crew Cab Pickup 4-Door
2.5L 2457CC 153Cu. In. l4 GAS DOHC Naturally Aspirated
2017
Chevrolet
Colorado
LT Crew Cab Pickup 4-Door
2.8L 171Cu. In. l4 DIESEL DOHC Turbocharged
2017
Chevrolet
Colorado
LT Crew Cab Pickup 4-Door
3.6L 217Cu. In. V6 GAS DOHC Naturally Aspirated
2017
Chevrolet
Colorado
LT Extended Cab Pickup 4-Door
2.5L 2457CC 153Cu. In. l4 GAS DOHC Naturally Aspirated
2017
Chevrolet
Colorado
LT Extended Cab Pickup 4-Door
2.8L 171Cu. In. l4 DIESEL DOHC Turbocharged
2017
Chevrolet
Colorado
LT Extended Cab Pickup 4-Door
3.6L 217Cu. In. V6 GAS DOHC Naturally Aspirated
2017
Chevrolet
Colorado
WT Crew Cab Pickup 4-Door
2.5L 2457CC 153Cu. In. l4 GAS DOHC Naturally Aspirated
2017
Chevrolet
Colorado
WT Crew Cab Pickup 4-Door
2.8L 171Cu. In. l4 DIESEL DOHC Turbocharged
2017
Chevrolet
Colorado
WT Crew Cab Pickup 4-Door
3.6L 217Cu. In. V6 GAS DOHC Naturally Aspirated
2017
Chevrolet
Colorado
WT Extended Cab Pickup 4-Door
2.5L 2457CC 153Cu. In. l4 GAS DOHC Naturally Aspirated
2017
Chevrolet
Colorado
WT Extended Cab Pickup 4-Door
2.8L 171Cu. In. l4 DIESEL DOHC Turbocharged
2017
Chevrolet
Colorado
WT Extended Cab Pickup 4-Door
3.6L 217Cu. In. V6 GAS DOHC Naturally Aspirated
2017
Chevrolet
Colorado
Z71 Crew Cab Pickup 4-Door
2.5L 2457CC 153Cu. In. l4 GAS DOHC Naturally Aspirated
2017
Chevrolet
Colorado
Z71 Crew Cab Pickup 4-Door
2.8L 171Cu. In. l4 DIESEL DOHC Turbocharged
2017
Chevrolet
Colorado
Z71 Crew Cab Pickup 4-Door
3.6L 217Cu. In. V6 GAS DOHC Naturally Aspirated
2017
Chevrolet
Colorado
Z71 Extended Cab Pickup 4-Door
2.5L 2457CC 153Cu. In. l4 GAS DOHC Naturally Aspirated
2017
Chevrolet
Colorado
Z71 Extended Cab Pickup 4-Door
2.8L 171Cu. In. l4 DIESEL DOHC Turbocharged
2017
Chevrolet
Colorado
Z71 Extended Cab Pickup 4-Door
3.6L 217Cu. In. V6 GAS DOHC Naturally Aspirated
2017
Chevrolet
Colorado
ZR2 Crew Cab Pickup 4-Door
2.8L 171Cu. In. l4 DIESEL DOHC Turbocharged
2017
Chevrolet
Colorado
ZR2 Crew Cab Pickup 4-Door
3.6L 217Cu. In. V6 GAS DOHC Naturally Aspirated
2017
Chevrolet
Colorado
ZR2 Extended Cab Pickup 4-Door
2.8L 171Cu. In. l4 DIESEL DOHC Turbocharged
2017
Chevrolet
Colorado
ZR2 Extended Cab Pickup 4-Door
3.6L 217Cu. In. V6 GAS DOHC Naturally Aspirated
2017
Chevrolet
Silverado 1500
Custom Extended Cab Pickup 4-Door
4.3L 262Cu. In. V6 FLEX OHV Naturally Aspirated
2017
Chevrolet
Silverado 1500
Custom Extended Cab Pickup 4-Door
5.3L 5328CC 325Cu. In. V8 FLEX OHV Naturally Aspirated
2017
Chevrolet
Silverado 1500
Custom Extended Cab Pickup 4-Door
5.3L 5328CC 325Cu. In. V8 GAS OHV Naturally Aspirated
2017
Chevrolet
Silverado 1500
High Country Crew Cab Pickup 4-Door
5.3L 5328CC 325Cu. In. V8 FLEX OHV Naturally Aspirated
2017
Chevrolet
Silverado 1500
High Country Crew Cab Pickup 4-Door
5.3L 5328CC 325Cu. In. V8 GAS OHV Naturally Aspirated
2017
Chevrolet
Silverado 1500
High Country Crew Cab Pickup 4-Door
6.2L 6162CC 376Cu. In. V8 GAS OHV Naturally Aspirated
2017
Chevrolet
Silverado 1500
LS Crew Cab Pickup 4-Door
4.3L 262Cu. In. V6 FLEX OHV Naturally Aspirated
2017
Chevrolet
Silverado 1500
LS Crew Cab Pickup 4-Door
5.3L 5328CC 325Cu. In. V8 FLEX OHV Naturally Aspirated
2017
Chevrolet
Silverado 1500
LS Crew Cab Pickup 4-Door
5.3L 5328CC 325Cu. In. V8 GAS OHV Naturally Aspirated
2017
Chevrolet
Silverado 1500
LS Extended Cab Pickup 4-Door
4.3L 262Cu. In. V6 FLEX OHV Naturally Aspirated
2017
Chevrolet
Silverado 1500
LS Extended Cab Pickup 4-Door
5.3L 5328CC 325Cu. In. V8 FLEX OHV Naturally Aspirated
2017
Chevrolet
Silverado 1500
LS Extended Cab Pickup 4-Door
5.3L 5328CC 325Cu. In. V8 GAS OHV Naturally Aspirated
2017
Chevrolet
Silverado 1500
LS Standard Cab Pickup 2-Door
4.3L 262Cu. In. V6 FLEX OHV Naturally Aspirated
2017
Chevrolet
Silverado 1500
LS Standard Cab Pickup 2-Door
4.3L 262Cu. In. V6 GAS OHV Naturally Aspirated
2017
Chevrolet
Silverado 1500
LS Standard Cab Pickup 2-Door
5.3L 5328CC 325Cu. In. V8 FLEX OHV Naturally Aspirated
2017
Chevrolet
Silverado 1500
LS Standard Cab Pickup 2-Door
5.3L 5328CC 325Cu. In. V8 GAS OHV Naturally Aspirated
2017
Chevrolet
Silverado 1500
LT Crew Cab Pickup 4-Door
4.3L 262Cu. In. V6 FLEX OHV Naturally Aspirated
2017
Chevrolet
Silverado 1500
LT Crew Cab Pickup 4-Door
5.3L 5328CC 325Cu. In. V8 ELECTRIC/GAS OHV Naturally Aspirated
2017
Chevrolet
Silverado 1500
LT Crew Cab Pickup 4-Door
5.3L 5328CC 325Cu. In. V8 FLEX OHV Naturally Aspirated
2017
Chevrolet
Silverado 1500
LT Crew Cab Pickup 4-Door
5.3L 5328CC 325Cu. In. V8 GAS OHV Naturally Aspirated
2017
Chevrolet
Silverado 1500
LT Extended Cab Pickup 4-Door
4.3L 262Cu. In. V6 FLEX OHV Naturally Aspirated
2017
Chevrolet
Silverado 1500
LT Extended Cab Pickup 4-Door
5.3L 5328CC 325Cu. In. V8 ELECTRIC/GAS OHV Naturally Aspirated
2017
Chevrolet
Silverado 1500
LT Extended Cab Pickup 4-Door
5.3L 5328CC 325Cu. In. V8 FLEX OHV Naturally Aspirated
2017
Chevrolet
Silverado 1500
LT Extended Cab Pickup 4-Door
5.3L 5328CC 325Cu. In. V8 GAS OHV Naturally Aspirated
2017
Chevrolet
Silverado 1500
LT Standard Cab Pickup 2-Door
4.3L 262Cu. In. V6 FLEX OHV Naturally Aspirated
2017
Chevrolet
Silverado 1500
LT Standard Cab Pickup 2-Door
5.3L 5328CC 325Cu. In. V8 ELECTRIC/GAS OHV Naturally Aspirated
2017
Chevrolet
Silverado 1500
LT Standard Cab Pickup 2-Door
5.3L 5328CC 325Cu. In. V8 FLEX OHV Naturally Aspirated
2017
Chevrolet
Silverado 1500
LT Standard Cab Pickup 2-Door
5.3L 5328CC 325Cu. In. V8 GAS OHV Naturally Aspirated
2017
Chevrolet
Silverado 1500
LTZ Crew Cab Pickup 4-Door
5.3L 5328CC 325Cu. In. V8 GAS OHV Naturally Aspirated
2017
Chevrolet
Silverado 1500
LTZ Crew Cab Pickup 4-Door
6.2L 6162CC 376Cu. In. V8 GAS OHV Naturally Aspirated
2017
Chevrolet
Silverado 1500
LTZ Extended Cab Pickup 4-Door
5.3L 5328CC 325Cu. In. V8 GAS OHV Naturally Aspirated
2017
Chevrolet
Silverado 1500
LTZ Extended Cab Pickup 4-Door
6.2L 6162CC 376Cu. In. V8 GAS OHV Naturally Aspirated
2017
Chevrolet
Silverado 1500
SSV Crew Cab Pickup 4-Door
5.3L 5328CC 325Cu. In. V8 FLEX OHV Naturally Aspirated
2017
Chevrolet
Silverado 1500
SSV Crew Cab Pickup 4-Door
5.3L 5328CC 325Cu. In. V8 GAS OHV Naturally Aspirated
2017
Chevrolet
Silverado 1500
WT Crew Cab Pickup 4-Door
4.3L 262Cu. In. V6 FLEX OHV Naturally Aspirated
2017
Chevrolet
Silverado 1500
WT Crew Cab Pickup 4-Door
5.3L 5328CC 325Cu. In. V8 FLEX OHV Naturally Aspirated
2017
Chevrolet
Silverado 1500
WT Crew Cab Pickup 4-Door
5.3L 5328CC 325Cu. In. V8 GAS OHV Naturally Aspirated
2017
Chevrolet
Silverado 1500
WT Extended Cab Pickup 4-Door
4.3L 262Cu. In. V6 FLEX OHV Naturally Aspirated
2017
Chevrolet
Silverado 1500
WT Extended Cab Pickup 4-Door
5.3L 5328CC 325Cu. In. V8 FLEX OHV Naturally Aspirated
2017
Chevrolet
Silverado 1500
WT Extended Cab Pickup 4-Door
5.3L 5328CC 325Cu. In. V8 GAS OHV Naturally Aspirated
2017
Chevrolet
Silverado 1500
WT Standard Cab Pickup 2-Door
4.3L 262Cu. In. V6 FLEX OHV Naturally Aspirated
2017
Chevrolet
Silverado 1500
WT Standard Cab Pickup 2-Door
5.3L 5328CC 325Cu. In. V8 FLEX OHV Naturally Aspirated
2017
Chevrolet
Silverado 1500
WT Standard Cab Pickup 2-Door
5.3L 5328CC 325Cu. In. V8 GAS OHV Naturally Aspirated
2017
Dodge
Challenger
Dual Stripes Coupe 2-Door
3.6L 3604CC 220Cu. In. V6 GAS DOHC Naturally Aspirated
2017
Dodge
Challenger
GT Coupe 2-Door
3.6L 3604CC 220Cu. In. V6 FLEX DOHC Naturally Aspirated
2017
Dodge
Challenger
R/T 392 Coupe 2-Door
6.4L 6424CC 392Cu. In. V8 GAS OHV Naturally Aspirated
2017
Dodge
Challenger
R/T Coupe 2-Door
5.7L 345Cu. In. V8 GAS OHV Naturally Aspirated
2017
Dodge
Challenger
Scat Pack Coupe 2-Door
6.4L 6424CC 392Cu. In. V8 GAS OHV Naturally Aspirated
2017
Dodge
Challenger
SRT 392 Coupe 2-Door
6.4L 6424CC 392Cu. In. V8 GAS OHV Naturally Aspirated
2017
Dodge
Challenger
SRT Coupe 2-Door
6.2L 6166CC 376Cu. In. V8 GAS OHV Supercharged
2017
Dodge
Challenger
SRT Go Mango Coupe 2-Door
6.2L 6166CC 376Cu. In. V8 GAS OHV Supercharged
2017
Dodge
Challenger
SRT Hellcat Coupe 2-Door
6.2L 6166CC 376Cu. In. V8 GAS OHV Supercharged
2017
Dodge
Challenger
SXT Coupe 2-Door
3.6L 3604CC 220Cu. In. V6 FLEX DOHC Naturally Aspirated
2017
Dodge
Challenger
T/A 392 Coupe 2-Door
6.4L 6424CC 392Cu. In. V8 GAS OHV Naturally Aspirated
2017
Dodge
Challenger
T/A Coupe 2-Door
5.7L 345Cu. In. V8 GAS OHV Naturally Aspirated
2017
Dodge
Journey
Canada Value Package Sport Utility 4-Door
2.4L 2360CC 144Cu. In. l4 GAS DOHC Naturally Aspirated
2017
Dodge
Journey
Crossroad Sport Utility 4-Door
2.4L 2360CC 144Cu. In. l4 GAS DOHC Naturally Aspirated
2017
Dodge
Journey
Crossroad Sport Utility 4-Door
3.6L 3604CC 220Cu. In. V6 FLEX DOHC Naturally Aspirated
2017
Dodge
Journey
GT Sport Utility 4-Door
3.6L 3604CC 220Cu. In. V6 FLEX DOHC Naturally Aspirated
2017
Dodge
Journey
GT Sport Utility 4-Door
3.6L 3604CC 220Cu. In. V6 GAS DOHC Naturally Aspirated
2017
Dodge
Journey
SE Plus Sport Utility 4-Door
2.4L 2360CC 144Cu. In. l4 GAS DOHC Naturally Aspirated
2017
Dodge
Journey
SE Sport Utility 4-Door
2.4L 2360CC 144Cu. In. l4 GAS DOHC Naturally Aspirated
2017
Dodge
Journey
SE Sport Utility 4-Door
3.6L 3604CC 220Cu. In. V6 FLEX DOHC Naturally Aspirated
2017
Dodge
Journey
SXT Lujo Sport Utility 4-Door
2.4L 2360CC 144Cu. In. l4 GAS DOHC Naturally Aspirated
2017
Dodge
Journey
SXT Sport Sport Utility 4-Door
2.4L 2360CC 144Cu. In. l4 GAS DOHC Naturally Aspirated
2017
Dodge
Journey
SXT Sport Utility 4-Door
2.4L 2360CC 144Cu. In. l4 GAS DOHC Naturally Aspirated
2017
Dodge
Journey
SXT Sport Utility 4-Door
3.6L 3604CC 220Cu. In. V6 FLEX DOHC Naturally Aspirated
2017
Toyota
4Runner
Base Sport Utility 4-Door
4.0L 3956CC 241Cu. In. V6 GAS DOHC Naturally Aspirated
2017
Toyota
4Runner
Limited Sport Utility 4-Door
4.0L 3956CC 241Cu. In. V6 GAS DOHC Naturally Aspirated
2017
Toyota
4Runner
SR5 Sport Utility 4-Door
4.0L 3956CC 241Cu. In. V6 GAS DOHC Naturally Aspirated
2017
Toyota
4Runner
TRD Off-Road Sport Utility 4-Door
4.0L 3956CC 241Cu. In. V6 GAS DOHC Naturally Aspirated
2017
Toyota
4Runner
TRD Pro Sport Utility 4-Door
4.0L 3956CC 241Cu. In. V6 GAS DOHC Naturally Aspirated
2017
Toyota
Highlander
Hybrid LE Sport Utility 4-Door
3.5L 3456CC V6 ELECTRIC/GAS DOHC Naturally Aspirated
2017
Toyota
Highlander
Hybrid Limited Sport Utility 4-Door
3.5L 3456CC V6 ELECTRIC/GAS DOHC Naturally Aspirated
2017
Toyota
Highlander
Hybrid XLE Sport Utility 4-Door
3.5L 3456CC V6 ELECTRIC/GAS DOHC Naturally Aspirated
2017
Toyota
Highlander
LE Plus Sport Utility 4-Door
3.5L 3456CC V6 GAS DOHC Naturally Aspirated
2017
Toyota
Highlander
LE Sport Utility 4-Door
2.7L 2672CC 163Cu. In. l4 GAS DOHC Naturally Aspirated
2017
Toyota
Highlander
LE Sport Utility 4-Door
3.5L 3456CC V6 GAS DOHC Naturally Aspirated
2017
Toyota
Highlander
Limited Sport Utility 4-Door
3.5L 3456CC V6 GAS DOHC Naturally Aspirated
2017
Toyota
Highlander
SE Sport Utility 4-Door
3.5L 3456CC V6 GAS DOHC Naturally Aspirated
2017
Toyota
Highlander
XLE Sport Utility 4-Door
3.5L 3456CC V6 GAS DOHC Naturally Aspirated
2017
Toyota
Land Cruiser
Base Sport Utility 4-Door
5.7L 5663CC 345Cu. In. V8 GAS DOHC Naturally Aspirated
2017
Toyota
Land Cruiser
VX-R Sport Utility 4-Door
5.7L 5663CC 345Cu. In. V8 GAS DOHC Naturally Aspirated
2017
Toyota
RAV4
Hybrid LE+ Sport Utility 4-Door
2.5L 2494CC 152Cu. In. l4 ELECTRIC/GAS DOHC Naturally Aspirated
2017
Toyota
RAV4
Hybrid Limited Sport Utility 4-Door
2.5L 2494CC 152Cu. In. l4 ELECTRIC/GAS DOHC Naturally Aspirated
2017
Toyota
RAV4
Hybrid SE Sport Utility 4-Door
2.5L 2494CC 152Cu. In. l4 ELECTRIC/GAS DOHC Naturally Aspirated
2017
Toyota
RAV4
Hybrid XLE Sport Utility 4-Door
2.5L 2494CC 152Cu. In. l4 ELECTRIC/GAS DOHC Naturally Aspirated
2017
Toyota
RAV4
LE Sport Utility 4-Door
2.5L 2494CC 152Cu. In. l4 GAS DOHC Naturally Aspirated
2017
Toyota
RAV4
Limited Sport Utility 4-Door
2.5L 2494CC 152Cu. In. l4 GAS DOHC Naturally Aspirated
2017
Toyota
RAV4
Platinum Sport Utility 4-Door
2.5L 2494CC 152Cu. In. l4 GAS DOHC Naturally Aspirated
2017
Toyota
RAV4
SE Sport Utility 4-Door
2.5L 2494CC 152Cu. In. l4 GAS DOHC Naturally Aspirated
2017
Toyota
RAV4
XLE Plus Sport Utility 4-Door
2.5L 2494CC 152Cu. In. l4 GAS DOHC Naturally Aspirated
2017
Toyota
RAV4
XLE Sport Utility 4-Door
2.5L 2494CC 152Cu. In. l4 GAS DOHC Naturally Aspirated
2016
Chevrolet
Colorado
Base Extended Cab Pickup 4-Door
2.5L 2457CC 153Cu. In. l4 GAS DOHC Naturally Aspirated
2016
Chevrolet
Colorado
LT Crew Cab Pickup 4-Door
2.5L 2457CC 153Cu. In. l4 GAS DOHC Naturally Aspirated
2016
Chevrolet
Colorado
LT Crew Cab Pickup 4-Door
2.8L 171Cu. In. l4 DIESEL DOHC Turbocharged
2016
Chevrolet
Colorado
LT Crew Cab Pickup 4-Door
3.6L 217Cu. In. V6 GAS DOHC Naturally Aspirated
2016
Chevrolet
Colorado
LT Extended Cab Pickup 4-Door
2.5L 2457CC 153Cu. In. l4 GAS DOHC Naturally Aspirated
2016
Chevrolet
Colorado
LT Extended Cab Pickup 4-Door
2.8L 171Cu. In. l4 DIESEL DOHC Turbocharged
2016
Chevrolet
Colorado
LT Extended Cab Pickup 4-Door
3.6L 217Cu. In. V6 GAS DOHC Naturally Aspirated
2016
Chevrolet
Colorado
WT Crew Cab Pickup 4-Door
2.5L 2457CC 153Cu. In. l4 GAS DOHC Naturally Aspirated
2016
Chevrolet
Colorado
WT Crew Cab Pickup 4-Door
2.8L 171Cu. In. l4 DIESEL DOHC Turbocharged
2016
Chevrolet
Colorado
WT Crew Cab Pickup 4-Door
3.6L 217Cu. In. V6 GAS DOHC Naturally Aspirated
2016
Chevrolet
Colorado
WT Crew Cab Pickup 4-Door
3.6L 3564CC 217Cu. In. V6 GAS Naturally Aspirated
2016
Chevrolet
Colorado
WT Extended Cab Pickup 4-Door
2.5L 2457CC 153Cu. In. l4 GAS DOHC Naturally Aspirated
2016
Chevrolet
Colorado
WT Extended Cab Pickup 4-Door
2.8L 171Cu. In. l4 DIESEL DOHC Turbocharged
2016
Chevrolet
Colorado
WT Extended Cab Pickup 4-Door
3.6L 217Cu. In. V6 GAS DOHC Naturally Aspirated
2016
Chevrolet
Colorado
Z71 Crew Cab Pickup 4-Door
2.5L 2457CC 153Cu. In. l4 GAS DOHC Naturally Aspirated
2016
Chevrolet
Colorado
Z71 Crew Cab Pickup 4-Door
2.8L 171Cu. In. l4 DIESEL DOHC Turbocharged
2016
Chevrolet
Colorado
Z71 Crew Cab Pickup 4-Door
3.6L 217Cu. In. V6 GAS DOHC Naturally Aspirated
2016
Chevrolet
Colorado
Z71 Extended Cab Pickup 4-Door
2.5L 2457CC 153Cu. In. l4 GAS DOHC Naturally Aspirated
2016
Chevrolet
Colorado
Z71 Extended Cab Pickup 4-Door
2.8L 171Cu. In. l4 DIESEL DOHC Turbocharged
2016
Chevrolet
Colorado
Z71 Extended Cab Pickup 4-Door
3.6L 217Cu. In. V6 GAS DOHC Naturally Aspirated
2016
Chevrolet
Silverado 1500
Base Standard Cab Pickup 2-Door
4.3L 4300CC 262Cu. In. V6 GAS Naturally Aspirated
2016
Chevrolet
Silverado 1500
Custom Crew Cab Pickup 4-Door
4.3L 262Cu. In. V6 FLEX OHV Naturally Aspirated
2016
Chevrolet
Silverado 1500
Custom Crew Cab Pickup 4-Door
5.3L 5328CC 325Cu. In. V8 FLEX OHV Naturally Aspirated
2016
Chevrolet
Silverado 1500
Custom Crew Cab Pickup 4-Door
5.3L 5328CC 325Cu. In. V8 GAS OHV Naturally Aspirated
2016
Chevrolet
Silverado 1500
Custom Extended Cab Pickup 4-Door
4.3L 262Cu. In. V6 FLEX OHV Naturally Aspirated
2016
Chevrolet
Silverado 1500
Custom Extended Cab Pickup 4-Door
5.3L 5328CC 325Cu. In. V8 FLEX OHV Naturally Aspirated
2016
Chevrolet
Silverado 1500
Custom Extended Cab Pickup 4-Door
5.3L 5328CC 325Cu. In. V8 GAS OHV Naturally Aspirated
2016
Chevrolet
Silverado 1500
High Country Crew Cab Pickup 4-Door
5.3L 5328CC 325Cu. In. V8 FLEX OHV Naturally Aspirated
2016
Chevrolet
Silverado 1500
High Country Crew Cab Pickup 4-Door
5.3L 5328CC 325Cu. In. V8 GAS OHV Naturally Aspirated
2016
Chevrolet
Silverado 1500
High Country Crew Cab Pickup 4-Door
6.2L 6162CC 376Cu. In. V8 GAS OHV Naturally Aspirated
2016
Chevrolet
Silverado 1500
LS Crew Cab Pickup 4-Door
4.3L 262Cu. In. V6 FLEX OHV Naturally Aspirated
2016
Chevrolet
Silverado 1500
LS Crew Cab Pickup 4-Door
5.3L 5328CC 325Cu. In. V8 ELECTRIC/GAS OHV Naturally Aspirated
2016
Chevrolet
Silverado 1500
LS Crew Cab Pickup 4-Door
5.3L 5328CC 325Cu. In. V8 FLEX OHV Naturally Aspirated
2016
Chevrolet
Silverado 1500
LS Crew Cab Pickup 4-Door
5.3L 5328CC 325Cu. In. V8 GAS OHV Naturally Aspirated
2016
Chevrolet
Silverado 1500
LS Extended Cab Pickup 4-Door
4.3L 262Cu. In. V6 FLEX OHV Naturally Aspirated
2016
Chevrolet
Silverado 1500
LS Extended Cab Pickup 4-Door
5.3L 5328CC 325Cu. In. V8 ELECTRIC/GAS OHV Naturally Aspirated
2016
Chevrolet
Silverado 1500
LS Extended Cab Pickup 4-Door
5.3L 5328CC 325Cu. In. V8 FLEX OHV Naturally Aspirated
2016
Chevrolet
Silverado 1500
LS Extended Cab Pickup 4-Door
5.3L 5328CC 325Cu. In. V8 GAS OHV Naturally Aspirated
2016
Chevrolet
Silverado 1500
LS Standard Cab Pickup 2-Door
4.3L 262Cu. In. V6 FLEX OHV Naturally Aspirated
2016
Chevrolet
Silverado 1500
LS Standard Cab Pickup 2-Door
5.3L 5328CC 325Cu. In. V8 ELECTRIC/GAS OHV Naturally Aspirated
2016
Chevrolet
Silverado 1500
LS Standard Cab Pickup 2-Door
5.3L 5328CC 325Cu. In. V8 FLEX OHV Naturally Aspirated
2016
Chevrolet
Silverado 1500
LS Standard Cab Pickup 2-Door
5.3L 5328CC 325Cu. In. V8 GAS OHV Naturally Aspirated
2016
Chevrolet
Silverado 1500
LT Crew Cab Pickup 4-Door
4.3L 262Cu. In. V6 FLEX OHV Naturally Aspirated
2016
Chevrolet
Silverado 1500
LT Crew Cab Pickup 4-Door
5.3L 5328CC 325Cu. In. V8 ELECTRIC/GAS OHV Naturally Aspirated
2016
Chevrolet
Silverado 1500
LT Crew Cab Pickup 4-Door
5.3L 5328CC 325Cu. In. V8 FLEX OHV Naturally Aspirated
2016
Chevrolet
Silverado 1500
LT Crew Cab Pickup 4-Door
5.3L 5328CC 325Cu. In. V8 GAS OHV Naturally Aspirated
2016
Chevrolet
Silverado 1500
LT Extended Cab Pickup 4-Door
4.3L 262Cu. In. V6 FLEX OHV Naturally Aspirated
2016
Chevrolet
Silverado 1500
LT Extended Cab Pickup 4-Door
5.3L 5328CC 325Cu. In. V8 ELECTRIC/GAS OHV Naturally Aspirated
2016
Chevrolet
Silverado 1500
LT Extended Cab Pickup 4-Door
5.3L 5328CC 325Cu. In. V8 FLEX OHV Naturally Aspirated
2016
Chevrolet
Silverado 1500
LT Extended Cab Pickup 4-Door
5.3L 5328CC 325Cu. In. V8 GAS OHV Naturally Aspirated
2016
Chevrolet
Silverado 1500
LT Standard Cab Pickup 2-Door
4.3L 262Cu. In. V6 FLEX OHV Naturally Aspirated
2016
Chevrolet
Silverado 1500
LT Standard Cab Pickup 2-Door
5.3L 5328CC 325Cu. In. V8 ELECTRIC/GAS OHV Naturally Aspirated
2016
Chevrolet
Silverado 1500
LT Standard Cab Pickup 2-Door
5.3L 5328CC 325Cu. In. V8 FLEX OHV Naturally Aspirated
2016
Chevrolet
Silverado 1500
LT Standard Cab Pickup 2-Door
5.3L 5328CC 325Cu. In. V8 GAS OHV Naturally Aspirated
2016
Chevrolet
Silverado 1500
LTZ Crew Cab Pickup 4-Door
5.3L 5328CC 325Cu. In. V8 GAS OHV Naturally Aspirated
2016
Chevrolet
Silverado 1500
LTZ Crew Cab Pickup 4-Door
6.2L 6162CC 376Cu. In. V8 GAS OHV Naturally Aspirated
2016
Chevrolet
Silverado 1500
LTZ Extended Cab Pickup 4-Door
5.3L 5328CC 325Cu. In. V8 GAS OHV Naturally Aspirated
2016
Chevrolet
Silverado 1500
LTZ Extended Cab Pickup 4-Door
6.2L 6162CC 376Cu. In. V8 GAS OHV Naturally Aspirated
2016
Chevrolet
Silverado 1500
SSV Crew Cab Pickup 4-Door
5.3L 5328CC 325Cu. In. V8 FLEX OHV Naturally Aspirated
2016
Chevrolet
Silverado 1500
SSV Crew Cab Pickup 4-Door
5.3L 5328CC 325Cu. In. V8 GAS OHV Naturally Aspirated
2016
Chevrolet
Silverado 1500
WT Crew Cab Pickup 4-Door
4.3L 262Cu. In. V6 FLEX OHV Naturally Aspirated
2016
Chevrolet
Silverado 1500
WT Crew Cab Pickup 4-Door
5.3L 5328CC 325Cu. In. V8 FLEX OHV Naturally Aspirated
2016
Chevrolet
Silverado 1500
WT Crew Cab Pickup 4-Door
5.3L 5328CC 325Cu. In. V8 GAS OHV Naturally Aspirated
2016
Chevrolet
Silverado 1500
WT Extended Cab Pickup 4-Door
4.3L 262Cu. In. V6 FLEX OHV Naturally Aspirated
2016
Chevrolet
Silverado 1500
WT Extended Cab Pickup 4-Door
5.3L 5328CC 325Cu. In. V8 FLEX OHV Naturally Aspirated
2016
Chevrolet
Silverado 1500
WT Extended Cab Pickup 4-Door
5.3L 5328CC 325Cu. In. V8 GAS OHV Naturally Aspirated
2016
Chevrolet
Silverado 1500
WT Standard Cab Pickup 2-Door
4.3L 262Cu. In. V6 FLEX OHV Naturally Aspirated
2016
Chevrolet
Silverado 1500
WT Standard Cab Pickup 2-Door
5.3L 5328CC 325Cu. In. V8 FLEX OHV Naturally Aspirated
2016
Chevrolet
Silverado 1500
WT Standard Cab Pickup 2-Door
5.3L 5328CC 325Cu. In. V8 GAS OHV Naturally Aspirated
2016
Dodge
Challenger
392 Hemi Scat Pack Shaker Coupe 2-Door
6.4L 6424CC 392Cu. In. V8 GAS OHV Naturally Aspirated
2016
Dodge
Challenger
Black Line Coupe 2-Door
3.6L 3604CC 220Cu. In. V6 GAS DOHC Naturally Aspirated
2016
Dodge
Challenger
R/T Coupe 2-Door
5.7L 345Cu. In. V8 GAS OHV Naturally Aspirated
2016
Dodge
Challenger
R/T Plus Coupe 2-Door
5.7L 345Cu. In. V8 GAS OHV Naturally Aspirated
2016
Dodge
Challenger
R/T Plus Shaker Coupe 2-Door
5.7L 345Cu. In. V8 GAS OHV Naturally Aspirated
2016
Dodge
Challenger
R/T Scat Pack Coupe 2-Door
6.4L 6424CC 392Cu. In. V8 GAS OHV Naturally Aspirated
2016
Dodge
Challenger
R/T Shaker Coupe 2-Door
5.7L 345Cu. In. V8 GAS OHV Naturally Aspirated
2016
Dodge
Challenger
Scat Pack Coupe 2-Door
6.4L 6424CC 392Cu. In. V8 GAS OHV Naturally Aspirated
2016
Dodge
Challenger
SRT 392 Coupe 2-Door
6.4L 6424CC 392Cu. In. V8 GAS OHV Naturally Aspirated
2016
Dodge
Challenger
SRT Coupe 2-Door
6.2L 6200CC 378Cu. In. V8 GAS OHV Supercharged
2016
Dodge
Challenger
SRT Hellcat Coupe 2-Door
6.2L 6166CC 376Cu. In. V8 GAS OHV Supercharged
2016
Dodge
Challenger
SXT Coupe 2-Door
3.6L 3604CC 220Cu. In. V6 FLEX DOHC Naturally Aspirated
2016
Dodge
Challenger
SXT Plus Coupe 2-Door
3.6L 3604CC 220Cu. In. V6 FLEX DOHC Naturally Aspirated
2016
Dodge
Journey
Canada Value Package Sport Utility 4-Door
2.4L 2360CC 144Cu. In. l4 GAS DOHC Naturally Aspirated
2016
Dodge
Journey
Crossroad Sport Utility 4-Door
2.4L 2360CC 144Cu. In. l4 GAS DOHC Naturally Aspirated
2016
Dodge
Journey
Crossroad Sport Utility 4-Door
3.6L 3604CC 220Cu. In. V6 FLEX DOHC Naturally Aspirated
2016
Dodge
Journey
R/T Sport Utility 4-Door
3.6L 3604CC 220Cu. In. V6 FLEX DOHC Naturally Aspirated
2016
Dodge
Journey
R/T Sport Utility 4-Door
3.6L 3605CC 220Cu. In. V6 GAS DOHC Naturally Aspirated
2016
Dodge
Journey
SE Plus Sport Utility 4-Door
2.4L 2360CC 144Cu. In. l4 GAS DOHC Naturally Aspirated
2016
Dodge
Journey
SE Sport Utility 4-Door
2.4L 2360CC 144Cu. In. l4 GAS DOHC Naturally Aspirated
2016
Dodge
Journey
SE Sport Utility 4-Door
3.6L 3604CC 220Cu. In. V6 FLEX DOHC Naturally Aspirated
2016
Dodge
Journey
SXT Sport Utility 4-Door
2.4L 2360CC 144Cu. In. l4 GAS DOHC Naturally Aspirated
2016
Dodge
Journey
SXT Sport Utility 4-Door
3.6L 3604CC 220Cu. In. V6 FLEX DOHC Naturally Aspirated
2016
Toyota
4Runner
Limited Sport Utility 4-Door
4.0L 3956CC 241Cu. In. V6 GAS DOHC Naturally Aspirated
2016
Toyota
4Runner
SR5 Sport Utility 4-Door
4.0L 3956CC 241Cu. In. V6 GAS DOHC Naturally Aspirated
2016
Toyota
4Runner
Trail Sport Utility 4-Door
4.0L 3956CC 241Cu. In. V6 GAS DOHC Naturally Aspirated
2016
Toyota
4Runner
TRD Pro Sport Utility 4-Door
4.0L 3956CC 241Cu. In. V6 GAS DOHC Naturally Aspirated
2016
Toyota
Highlander
Hybrid LE Sport Utility 4-Door
3.5L 3456CC V6 ELECTRIC/GAS DOHC Naturally Aspirated
2016
Toyota
Highlander
Hybrid Limited Sport Utility 4-Door
3.5L 3456CC V6 ELECTRIC/GAS DOHC Naturally Aspirated
2016
Toyota
Highlander
Hybrid XLE Sport Utility 4-Door
3.5L 3456CC V6 ELECTRIC/GAS DOHC Naturally Aspirated
2016
Toyota
Highlander
LE Plus Sport Utility 4-Door
3.5L 3456CC V6 GAS DOHC Naturally Aspirated
2016
Toyota
Highlander
LE Sport Utility 4-Door
2.7L 2672CC 163Cu. In. l4 GAS DOHC Naturally Aspirated
2016
Toyota
Highlander
LE Sport Utility 4-Door
3.5L 3456CC V6 GAS DOHC Naturally Aspirated
2016
Toyota
Highlander
LE Sport Utility 4-Door
3.5L 3500CC 214Cu. In. V6 GAS Naturally Aspirated
2016
Toyota
Highlander
Limited Sport Utility 4-Door
3.5L 3456CC 211Cu. In. V6 GAS Naturally Aspirated
2016
Toyota
Highlander
Limited Sport Utility 4-Door
3.5L 3456CC V6 GAS DOHC Naturally Aspirated
2016
Toyota
Highlander
XLE Sport Utility 4-Door
3.5L 3456CC V6 GAS DOHC Naturally Aspirated
2016
Toyota
Highlander
XLE Sport Utility 4-Door
3.5L 3500CC 214Cu. In. V6 GAS Naturally Aspirated
2016
Toyota
Land Cruiser
Base Sport Utility 4-Door
5.7L 5663CC 345Cu. In. V8 GAS DOHC Naturally Aspirated
2016
Toyota
Land Cruiser
VX Sport Utility 4-Door
5.7L 5700CC 348Cu. In. V8 GAS Naturally Aspirated
2016
Toyota
RAV4
Hybrid Limited Sport Utility 4-Door
2.5L 2494CC 152Cu. In. l4 ELECTRIC/GAS DOHC Naturally Aspirated
2016
Toyota
RAV4
Hybrid XLE Sport Utility 4-Door
2.5L 2494CC 152Cu. In. l4 ELECTRIC/GAS DOHC Naturally Aspirated
2016
Toyota
RAV4
LE Sport Utility 4-Door
2.5L 2494CC 152Cu. In. l4 GAS DOHC Naturally Aspirated
2016
Toyota
RAV4
LE Sport Utility 4-Door
2.5L 2500CC 153Cu. In. l4 GAS Naturally Aspirated
2016
Toyota
RAV4
Limited Sport Utility 4-Door
2.5L 2494CC 152Cu. In. l4 GAS DOHC Naturally Aspirated
2016
Toyota
RAV4
Limited Sport Utility 4-Door
2.5L 2500CC 153Cu. In. l4 GAS Naturally Aspirated
2016
Toyota
RAV4
SE Sport Utility 4-Door
2.5L 2494CC 152Cu. In. l4 GAS DOHC Naturally Aspirated
2016
Toyota
RAV4
SE Sport Utility 4-Door
2.5L 2500CC 153Cu. In. l4 GAS Naturally Aspirated
2016
Toyota
RAV4
XLE Sport Utility 4-Door
2.5L 2494CC 152Cu. In. l4 GAS DOHC Naturally Aspirated
2016
Toyota
RAV4
XLE Sport Utility 4-Door
2.5L 2500CC 153Cu. In. l4 GAS Naturally Aspirated
2015
Chevrolet
Colorado
Base Extended Cab Pickup 4-Door
2.5L 2457CC 153Cu. In. l4 GAS DOHC Naturally Aspirated
2015
Chevrolet
Colorado
LT Crew Cab Pickup 4-Door
2.5L 2457CC 153Cu. In. l4 GAS DOHC Naturally Aspirated
2015
Chevrolet
Colorado
LT Crew Cab Pickup 4-Door
3.6L 217Cu. In. V6 GAS DOHC Naturally Aspirated
2015
Chevrolet
Colorado
LT Extended Cab Pickup 4-Door
2.5L 2457CC 153Cu. In. l4 GAS DOHC Naturally Aspirated
2015
Chevrolet
Colorado
LT Extended Cab Pickup 4-Door
3.6L 217Cu. In. V6 GAS DOHC Naturally Aspirated
2015
Chevrolet
Colorado
LTZ Crew Cab Pickup 4-Door
3.6L 3564CC 217Cu. In. V6 GAS DOHC Naturally Aspirated
2015
Chevrolet
Colorado
WT Crew Cab Pickup 4-Door
2.5L 2457CC 153Cu. In. l4 GAS DOHC Naturally Aspirated
2015
Chevrolet
Colorado
WT Crew Cab Pickup 4-Door
3.6L 217Cu. In. V6 GAS DOHC Naturally Aspirated
2015
Chevrolet
Colorado
WT Extended Cab Pickup 4-Door
2.5L 2457CC 153Cu. In. l4 GAS DOHC Naturally Aspirated
2015
Chevrolet
Colorado
WT Extended Cab Pickup 4-Door
3.6L 217Cu. In. V6 GAS DOHC Naturally Aspirated
2015
Chevrolet
Colorado
Z71 Crew Cab Pickup 4-Door
2.5L 2457CC 153Cu. In. l4 GAS DOHC Naturally Aspirated
2015
Chevrolet
Colorado
Z71 Crew Cab Pickup 4-Door
3.6L 217Cu. In. V6 GAS DOHC Naturally Aspirated
2015
Chevrolet
Colorado
Z71 Extended Cab Pickup 4-Door
2.5L 2457CC 153Cu. In. l4 GAS DOHC Naturally Aspirated
2015
Chevrolet
Colorado
Z71 Extended Cab Pickup 4-Door
3.6L 217Cu. In. V6 GAS DOHC Naturally Aspirated
2015
Chevrolet
Silverado 1500
Base Standard Cab Pickup 2-Door
4.3L 4300CC 262Cu. In. V6 GAS SOHC Naturally Aspirated
2015
Chevrolet
Silverado 1500
High Country Crew Cab Pickup 4-Door
5.3L 5328CC 325Cu. In. V8 FLEX OHV Naturally Aspirated
2015
Chevrolet
Silverado 1500
High Country Crew Cab Pickup 4-Door
5.3L 5328CC 325Cu. In. V8 GAS OHV Naturally Aspirated
2015
Chevrolet
Silverado 1500
High Country Crew Cab Pickup 4-Door
6.2L 6162CC 376Cu. In. V8 GAS OHV Naturally Aspirated
2015
Chevrolet
Silverado 1500
LS Crew Cab Pickup 4-Door
4.3L 262Cu. In. V6 FLEX OHV Naturally Aspirated
2015
Chevrolet
Silverado 1500
LS Crew Cab Pickup 4-Door
5.3L 5328CC 325Cu. In. V8 FLEX OHV Naturally Aspirated
2015
Chevrolet
Silverado 1500
LS Crew Cab Pickup 4-Door
5.3L 5328CC 325Cu. In. V8 GAS OHV Naturally Aspirated
2015
Chevrolet
Silverado 1500
LS Extended Cab Pickup 4-Door
4.3L 262Cu. In. V6 FLEX OHV Naturally Aspirated
2015
Chevrolet
Silverado 1500
LS Extended Cab Pickup 4-Door
5.3L 5328CC 325Cu. In. V8 FLEX OHV Naturally Aspirated
2015
Chevrolet
Silverado 1500
LS Extended Cab Pickup 4-Door
5.3L 5328CC 325Cu. In. V8 GAS OHV Naturally Aspirated
2015
Chevrolet
Silverado 1500
LS Standard Cab Pickup 2-Door
4.3L 262Cu. In. V6 FLEX OHV Naturally Aspirated
2015
Chevrolet
Silverado 1500
LS Standard Cab Pickup 2-Door
5.3L 5328CC 325Cu. In. V8 FLEX OHV Naturally Aspirated
2015
Chevrolet
Silverado 1500
LS Standard Cab Pickup 2-Door
5.3L 5328CC 325Cu. In. V8 GAS OHV Naturally Aspirated
2015
Chevrolet
Silverado 1500
LT Crew Cab Pickup 4-Door
4.3L 262Cu. In. V6 FLEX OHV Naturally Aspirated
2015
Chevrolet
Silverado 1500
LT Crew Cab Pickup 4-Door
5.3L 5328CC 325Cu. In. V8 FLEX OHV Naturally Aspirated
2015
Chevrolet
Silverado 1500
LT Crew Cab Pickup 4-Door
5.3L 5328CC 325Cu. In. V8 GAS OHV Naturally Aspirated
2015
Chevrolet
Silverado 1500
LT Extended Cab Pickup 4-Door
4.3L 262Cu. In. V6 FLEX OHV Naturally Aspirated
2015
Chevrolet
Silverado 1500
LT Extended Cab Pickup 4-Door
5.3L 5328CC 325Cu. In. V8 FLEX OHV Naturally Aspirated
2015
Chevrolet
Silverado 1500
LT Extended Cab Pickup 4-Door
5.3L 5328CC 325Cu. In. V8 GAS OHV Naturally Aspirated
2015
Chevrolet
Silverado 1500
LT Standard Cab Pickup 2-Door
4.3L 262Cu. In. V6 FLEX OHV Naturally Aspirated
2015
Chevrolet
Silverado 1500
LT Standard Cab Pickup 2-Door
5.3L 5328CC 325Cu. In. V8 FLEX OHV Naturally Aspirated
2015
Chevrolet
Silverado 1500
LT Standard Cab Pickup 2-Door
5.3L 5328CC 325Cu. In. V8 GAS OHV Naturally Aspirated
2015
Chevrolet
Silverado 1500
LTZ Crew Cab Pickup 4-Door
5.3L 5328CC 325Cu. In. V8 GAS OHV Naturally Aspirated
2015
Chevrolet
Silverado 1500
LTZ Crew Cab Pickup 4-Door
6.2L 6162CC 376Cu. In. V8 GAS OHV Naturally Aspirated
2015
Chevrolet
Silverado 1500
LTZ Extended Cab Pickup 4-Door
5.3L 5328CC 325Cu. In. V8 GAS OHV Naturally Aspirated
2015
Chevrolet
Silverado 1500
LTZ Extended Cab Pickup 4-Door
6.2L 6162CC 376Cu. In. V8 GAS OHV Naturally Aspirated
2015
Chevrolet
Silverado 1500
SSV Crew Cab Pickup 4-Door
5.3L 5328CC 325Cu. In. V8 FLEX OHV Naturally Aspirated
2015
Chevrolet
Silverado 1500
SSV Crew Cab Pickup 4-Door
5.3L 5328CC 325Cu. In. V8 GAS OHV Naturally Aspirated
2015
Chevrolet
Silverado 1500
WT Crew Cab Pickup 4-Door
4.3L 262Cu. In. V6 FLEX OHV Naturally Aspirated
2015
Chevrolet
Silverado 1500
WT Crew Cab Pickup 4-Door
5.3L 5328CC 325Cu. In. V8 FLEX OHV Naturally Aspirated
2015
Chevrolet
Silverado 1500
WT Crew Cab Pickup 4-Door
5.3L 5328CC 325Cu. In. V8 GAS OHV Naturally Aspirated
2015
Chevrolet
Silverado 1500
WT Extended Cab Pickup 4-Door
4.3L 262Cu. In. V6 FLEX OHV Naturally Aspirated
2015
Chevrolet
Silverado 1500
WT Extended Cab Pickup 4-Door
5.3L 5328CC 325Cu. In. V8 FLEX OHV Naturally Aspirated
2015
Chevrolet
Silverado 1500
WT Extended Cab Pickup 4-Door
5.3L 5328CC 325Cu. In. V8 GAS OHV Naturally Aspirated
2015
Chevrolet
Silverado 1500
WT Standard Cab Pickup 2-Door
4.3L 262Cu. In. V6 FLEX OHV Naturally Aspirated
2015
Chevrolet
Silverado 1500
WT Standard Cab Pickup 2-Door
5.3L 5328CC 325Cu. In. V8 FLEX OHV Naturally Aspirated
2015
Chevrolet
Silverado 1500
WT Standard Cab Pickup 2-Door
5.3L 5328CC 325Cu. In. V8 GAS OHV Naturally Aspirated
2015
Dodge
Challenger
Black Line Coupe 2-Door
3.6L 3604CC 220Cu. In. V6 GAS DOHC Naturally Aspirated
2015
Dodge
Challenger
R/T Coupe 2-Door
5.7L 345Cu. In. V8 GAS OHV Naturally Aspirated
2015
Dodge
Challenger
R/T Plus Coupe 2-Door
5.7L 345Cu. In. V8 GAS OHV Naturally Aspirated
2015
Dodge
Challenger
Scat Pack Coupe 2-Door
6.4L 6424CC 392Cu. In. V8 GAS OHV Naturally Aspirated
2015
Dodge
Challenger
SRT 392 Coupe 2-Door
6.4L 6424CC 392Cu. In. V8 GAS OHV Naturally Aspirated
2015
Dodge
Challenger
SRT Hellcat Coupe 2-Door
6.2L 6166CC 376Cu. In. V8 GAS OHV Supercharged
2015
Dodge
Challenger
SRT Hellcat Coupe 2-Door
6.2L 6200CC 378Cu. In. V8 GAS OHV Supercharged
2015
Dodge
Challenger
SXT Coupe 2-Door
3.6L 3604CC 220Cu. In. V6 FLEX DOHC Naturally Aspirated
2015
Dodge
Challenger
SXT Plus Coupe 2-Door
3.6L 3604CC 220Cu. In. V6 FLEX DOHC Naturally Aspirated
2015
Dodge
Journey
AVP Sport Utility 4-Door
2.4L 2360CC 144Cu. In. l4 GAS DOHC Naturally Aspirated
2015
Dodge
Journey
Canada Value Package Sport Utility 4-Door
2.4L 2360CC 144Cu. In. l4 GAS DOHC Naturally Aspirated
2015
Dodge
Journey
Crossroad Sport Utility 4-Door
2.4L 2360CC 144Cu. In. l4 GAS DOHC Naturally Aspirated
2015
Dodge
Journey
Crossroad Sport Utility 4-Door
3.6L 3604CC 220Cu. In. V6 FLEX DOHC Naturally Aspirated
2015
Dodge
Journey
Limited Sport Utility 4-Door
3.6L 3604CC 220Cu. In. V6 FLEX DOHC Naturally Aspirated
2015
Dodge
Journey
R/T Sport Utility 4-Door
3.6L 3604CC 220Cu. In. V6 FLEX DOHC Naturally Aspirated
2015
Dodge
Journey
R/T Sport Utility 4-Door
3.6L 3605CC 220Cu. In. V6 GAS DOHC Naturally Aspirated
2015
Dodge
Journey
SE Plus Sport Utility 4-Door
2.4L 2360CC 144Cu. In. l4 GAS DOHC Naturally Aspirated
2015
Dodge
Journey
SE Sport Utility 4-Door
2.4L 2360CC 144Cu. In. l4 GAS DOHC Naturally Aspirated
2015
Dodge
Journey
SXT Sport Utility 4-Door
2.4L 2360CC 144Cu. In. l4 GAS DOHC Naturally Aspirated
2015
Dodge
Journey
SXT Sport Utility 4-Door
3.6L 3604CC 220Cu. In. V6 FLEX DOHC Naturally Aspirated
2015
Toyota
4Runner
Limited Sport Utility 4-Door
4.0L 3956CC 241Cu. In. V6 GAS DOHC Naturally Aspirated
2015
Toyota
4Runner
SR5 Sport Utility 4-Door
4.0L 3956CC 241Cu. In. V6 GAS DOHC Naturally Aspirated
2015
Toyota
4Runner
Trail Sport Utility 4-Door
4.0L 3956CC 241Cu. In. V6 GAS DOHC Naturally Aspirated
2015
Toyota
4Runner
TRD Pro Sport Utility 4-Door
4.0L 3956CC 241Cu. In. V6 GAS DOHC Naturally Aspirated
2015
Toyota
Highlander
Hybrid LE Sport Utility 4-Door
3.5L 3456CC V6 ELECTRIC/GAS DOHC Naturally Aspirated
2015
Toyota
Highlander
Hybrid Limited Sport Utility 4-Door
3.5L 3456CC V6 ELECTRIC/GAS DOHC Naturally Aspirated
2015
Toyota
Highlander
Hybrid XLE Sport Utility 4-Door
3.5L 3456CC V6 ELECTRIC/GAS DOHC Naturally Aspirated
2015
Toyota
Highlander
LE Plus Sport Utility 4-Door
3.5L 3456CC V6 GAS DOHC Naturally Aspirated
2015
Toyota
Highlander
LE Sport Utility 4-Door
2.7L 2672CC 163Cu. In. l4 GAS DOHC Naturally Aspirated
2015
Toyota
Highlander
LE Sport Utility 4-Door
3.5L 3456CC V6 GAS DOHC Naturally Aspirated
2015
Toyota
Highlander
LE Sport Utility 4-Door
3.5L 3500CC 214Cu. In. V6 GAS DOHC Naturally Aspirated
2015
Toyota
Highlander
Limited Sport Utility 4-Door
3.5L 3456CC V6 GAS DOHC Naturally Aspirated
2015
Toyota
Highlander
XLE Sport Utility 4-Door
3.5L 3456CC V6 GAS DOHC Naturally Aspirated
2015
Toyota
Highlander
XLE Sport Utility 4-Door
3.5L 3500CC 214Cu. In. V6 GAS DOHC Naturally Aspirated
2015
Toyota
Land Cruiser
Base Sport Utility 4-Door
5.7L 5663CC 345Cu. In. V8 GAS DOHC Naturally Aspirated
2015
Toyota
Land Cruiser
VX Sport Utility 4-Door
5.7L 5700CC 348Cu. In. V8 GAS DOHC Naturally Aspirated
2015
Toyota
RAV4
LE Sport Utility 4-Door
2.5L 2494CC 152Cu. In. l4 GAS DOHC Naturally Aspirated
2015
Toyota
RAV4
LE Sport Utility 4-Door
2.5L 2500CC 153Cu. In. l4 GAS DOHC Naturally Aspirated
2015
Toyota
RAV4
Limited Platinum Sport Utility 4-Door
2.5L 2500CC 153Cu. In. l4 GAS DOHC Naturally Aspirated
2015
Toyota
RAV4
Limited Sport Utility 4-Door
2.5L 2494CC 152Cu. In. l4 GAS DOHC Naturally Aspirated
2015
Toyota
RAV4
Limited Sport Utility 4-Door
2.5L 2500CC 153Cu. In. l4 GAS DOHC Naturally Aspirated
2015
Toyota
RAV4
XLE Sport Utility 4-Door
2.5L 2494CC 152Cu. In. l4 GAS DOHC Naturally Aspirated
2015
Toyota
RAV4
XLE Sport Utility 4-Door
2.5L 2500CC 153Cu. In. l4 GAS DOHC Naturally Aspirated
2014
Chevrolet
Colorado
LT Crew Cab Pickup 4-Door
3.6L 3564CC 217Cu. In. V6 GAS DOHC Naturally Aspirated
2014
Chevrolet
Colorado
LTZ Crew Cab Pickup 4-Door
3.6L 3564CC 217Cu. In. V6 GAS DOHC Naturally Aspirated
2014
Chevrolet
Silverado 1500
Base Standard Cab Pickup 2-Door
4.3L 4300CC 262Cu. In. V6 GAS SOHC Naturally Aspirated
2014
Chevrolet
Silverado 1500
High Country Crew Cab Pickup 4-Door
5.3L 5328CC 325Cu. In. V8 FLEX OHV Naturally Aspirated
2014
Chevrolet
Silverado 1500
High Country Crew Cab Pickup 4-Door
6.2L 6162CC 376Cu. In. V8 GAS OHV Naturally Aspirated
2014
Chevrolet
Silverado 1500
LT Crew Cab Pickup 4-Door
4.3L 262Cu. In. V6 FLEX OHV Naturally Aspirated
2014
Chevrolet
Silverado 1500
LT Crew Cab Pickup 4-Door
5.3L 5328CC 325Cu. In. V8 FLEX OHV Naturally Aspirated
2014
Chevrolet
Silverado 1500
LT Extended Cab Pickup 4-Door
4.3L 262Cu. In. V6 FLEX OHV Naturally Aspirated
2014
Chevrolet
Silverado 1500
LT Extended Cab Pickup 4-Door
5.3L 5328CC 325Cu. In. V8 FLEX OHV Naturally Aspirated
2014
Chevrolet
Silverado 1500
LT Standard Cab Pickup 2-Door
4.3L 262Cu. In. V6 FLEX OHV Naturally Aspirated
2014
Chevrolet
Silverado 1500
LT Standard Cab Pickup 2-Door
5.3L 5328CC 325Cu. In. V8 FLEX OHV Naturally Aspirated
2014
Chevrolet
Silverado 1500
LTZ Crew Cab Pickup 4-Door
5.3L 5328CC 325Cu. In. V8 GAS OHV Naturally Aspirated
2014
Chevrolet
Silverado 1500
LTZ Crew Cab Pickup 4-Door
6.2L 6162CC 376Cu. In. V8 GAS OHV Naturally Aspirated
2014
Chevrolet
Silverado 1500
LTZ Extended Cab Pickup 4-Door
5.3L 5328CC 325Cu. In. V8 GAS OHV Naturally Aspirated
2014
Chevrolet
Silverado 1500
LTZ Extended Cab Pickup 4-Door
6.2L 6162CC 376Cu. In. V8 GAS OHV Naturally Aspirated
2014
Chevrolet
Silverado 1500
WT Crew Cab Pickup 4-Door
4.3L 262Cu. In. V6 FLEX OHV Naturally Aspirated
2014
Chevrolet
Silverado 1500
WT Crew Cab Pickup 4-Door
5.3L 5328CC 325Cu. In. V8 FLEX OHV Naturally Aspirated
2014
Chevrolet
Silverado 1500
WT Extended Cab Pickup 4-Door
4.3L 262Cu. In. V6 FLEX OHV Naturally Aspirated
2014
Chevrolet
Silverado 1500
WT Extended Cab Pickup 4-Door
5.3L 5328CC 325Cu. In. V8 FLEX OHV Naturally Aspirated
2014
Chevrolet
Silverado 1500
WT Standard Cab Pickup 2-Door
4.3L 262Cu. In. V6 FLEX OHV Naturally Aspirated
2014
Chevrolet
Silverado 1500
WT Standard Cab Pickup 2-Door
5.3L 5328CC 325Cu. In. V8 FLEX OHV Naturally Aspirated
2014
Chevrolet
Suburban 1500
LS Sport Utility 4-Door
5.3L 5328CC 325Cu. In. V8 FLEX OHV Naturally Aspirated
2014
Chevrolet
Suburban 1500
LT Sport Utility 4-Door
5.3L 5328CC 325Cu. In. V8 FLEX OHV Naturally Aspirated
2014
Chevrolet
Suburban 1500
LTZ Sport Utility 4-Door
5.3L 5328CC 325Cu. In. V8 FLEX OHV Naturally Aspirated
2014
Dodge
Avenger
GTS Sedan 4-Door
2.4L 2360CC 144Cu. In. l4 GAS DOHC Naturally Aspirated
2014
Dodge
Avenger
R/T Sedan 4-Door
3.6L 3604CC 220Cu. In. V6 FLEX DOHC Naturally Aspirated
2014
Dodge
Avenger
SE Canada Value Package Sedan 4-Door
2.4L 2360CC 144Cu. In. l4 GAS DOHC Naturally Aspirated
2014
Dodge
Avenger
SE Canada Value Package Sedan 4-Door
3.6L 3604CC 220Cu. In. V6 FLEX DOHC Naturally Aspirated
2014
Dodge
Avenger
SE Sedan 4-Door
2.4L 2360CC 144Cu. In. l4 GAS DOHC Naturally Aspirated
2014
Dodge
Avenger
SE Sedan 4-Door
3.6L 3604CC 220Cu. In. V6 FLEX DOHC Naturally Aspirated
2014
Dodge
Avenger
SXT Sedan 4-Door
2.4L 2360CC 144Cu. In. l4 GAS DOHC Naturally Aspirated
2014
Dodge
Avenger
SXT Sedan 4-Door
3.6L 3604CC 220Cu. In. V6 FLEX DOHC Naturally Aspirated
2014
Dodge
Challenger
Base Coupe 2-Door
5.7L 5654CC 345Cu. In. V8 GAS OHV Naturally Aspirated
2014
Dodge
Challenger
R/T Classic Coupe 2-Door
5.7L 345Cu. In. V8 GAS OHV Naturally Aspirated
2014
Dodge
Challenger
R/T Coupe 2-Door
5.7L 345Cu. In. V8 GAS OHV Naturally Aspirated
2014
Dodge
Challenger
Rallye Redline Coupe 2-Door
3.6L 3604CC 220Cu. In. V6 FLEX DOHC Naturally Aspirated
2014
Dodge
Challenger
Rallye Redline Coupe 2-Door
3.6L 3604CC 220Cu. In. V6 GAS DOHC Naturally Aspirated
2014
Dodge
Challenger
SRT Coupe 2-Door
6.4L 6424CC 392Cu. In. V8 GAS OHV Naturally Aspirated
2014
Dodge
Challenger
SRT8 Coupe 2-Door
6.4L 6424CC 392Cu. In. V8 GAS OHV Naturally Aspirated
2014
Dodge
Challenger
SXT Coupe 2-Door
3.6L 3604CC 220Cu. In. V6 FLEX DOHC Naturally Aspirated
2014
Dodge
Challenger
SXT Coupe 2-Door
3.6L 3604CC 220Cu. In. V6 GAS DOHC Naturally Aspirated
2014
Dodge
Journey
Base Sport Utility 4-Door
2.4L 2360CC 144Cu. In. l4 GAS DOHC Naturally Aspirated
2014
Dodge
Journey
Canada Value Package Sport Utility 4-Door
2.4L 2360CC 144Cu. In. l4 GAS DOHC Naturally Aspirated
2014
Dodge
Journey
Crossroad Sport Utility 4-Door
2.4L 2360CC 144Cu. In. l4 GAS DOHC Naturally Aspirated
2014
Dodge
Journey
Crossroad Sport Utility 4-Door
3.6L 3604CC 220Cu. In. V6 FLEX DOHC Naturally Aspirated
2014
Dodge
Journey
Limited Sport Utility 4-Door
3.6L 3604CC 220Cu. In. V6 FLEX DOHC Naturally Aspirated
2014
Dodge
Journey
R/T Rallye Sport Utility 4-Door
3.6L 3604CC 220Cu. In. V6 FLEX DOHC Naturally Aspirated
2014
Dodge
Journey
R/T Sport Utility 4-Door
3.6L 3604CC 220Cu. In. V6 FLEX DOHC Naturally Aspirated
2014
Dodge
Journey
R/T Sport Utility 4-Door
3.6L 3605CC 220Cu. In. V6 GAS DOHC Naturally Aspirated
2014
Dodge
Journey
SE Plus Sport Utility 4-Door
2.4L 2360CC 144Cu. In. l4 GAS DOHC Naturally Aspirated
2014
Dodge
Journey
SE Sport Utility 4-Door
2.4L 2360CC 144Cu. In. l4 GAS DOHC Naturally Aspirated
2014
Dodge
Journey
SXT Sport Utility 4-Door
2.4L 2360CC 144Cu. In. l4 GAS DOHC Naturally Aspirated
2014
Dodge
Journey
SXT Sport Utility 4-Door
3.6L 3604CC 220Cu. In. V6 FLEX DOHC Naturally Aspirated
2014
Toyota
4Runner
Limited Sport Utility 4-Door
4.0L 3956CC 241Cu. In. V6 GAS DOHC Naturally Aspirated
2014
Toyota
4Runner
SR5 Sport Utility 4-Door
4.0L 3956CC 241Cu. In. V6 GAS DOHC Naturally Aspirated
2014
Toyota
4Runner
Trail Sport Utility 4-Door
4.0L 3956CC 241Cu. In. V6 GAS DOHC Naturally Aspirated
2014
Toyota
Highlander
Hybrid LE Sport Utility 4-Door
3.5L 3456CC V6 ELECTRIC/GAS DOHC Naturally Aspirated
2014
Toyota
Highlander
Hybrid Limited Sport Utility 4-Door
3.5L 3456CC V6 ELECTRIC/GAS DOHC Naturally Aspirated
2014
Toyota
Highlander
Hybrid XLE Sport Utility 4-Door
3.5L 3456CC V6 ELECTRIC/GAS DOHC Naturally Aspirated
2014
Toyota
Highlander
LE Plus Sport Utility 4-Door
3.5L 3456CC V6 GAS DOHC Naturally Aspirated
2014
Toyota
Highlander
LE Sport Utility 4-Door
2.7L 2672CC 163Cu. In. l4 GAS DOHC Naturally Aspirated
2014
Toyota
Highlander
LE Sport Utility 4-Door
3.5L 3456CC V6 GAS DOHC Naturally Aspirated
2014
Toyota
Highlander
LE Sport Utility 4-Door
3.5L 3500CC 214Cu. In. V6 GAS DOHC Naturally Aspirated
2014
Toyota
Highlander
Limited Sport Utility 4-Door
3.5L 3456CC V6 GAS DOHC Naturally Aspirated
2014
Toyota
Highlander
XLE Sport Utility 4-Door
3.5L 3456CC V6 GAS DOHC Naturally Aspirated
2014
Toyota
Highlander
XLE Sport Utility 4-Door
3.5L 3500CC 214Cu. In. V6 GAS DOHC Naturally Aspirated
2014
Toyota
Land Cruiser
Base Sport Utility 4-Door
5.7L 5663CC 345Cu. In. V8 GAS DOHC Naturally Aspirated
2014
Toyota
Land Cruiser
VX Sport Utility 4-Door
5.7L 5700CC 348Cu. In. V8 GAS DOHC Naturally Aspirated
2014
Toyota
RAV4
EV Sport Utility 4-Door
ELECTRIC
2014
Toyota
RAV4
LE Sport Utility 4-Door
2.5L 2494CC 152Cu. In. l4 GAS DOHC Naturally Aspirated
2014
Toyota
RAV4
LE Sport Utility 4-Door
2.5L 2500CC 153Cu. In. l4 GAS DOHC Naturally Aspirated
2014
Toyota
RAV4
Limited Platinum Sport Utility 4-Door
2.5L 2500CC 153Cu. In. l4 GAS DOHC Naturally Aspirated
2014
Toyota
RAV4
Limited Sport Utility 4-Door
2.5L 2494CC 152Cu. In. l4 GAS DOHC Naturally Aspirated
2014
Toyota
RAV4
Limited Sport Utility 4-Door
2.5L 2500CC 153Cu. In. l4 GAS DOHC Naturally Aspirated
2014
Toyota
RAV4
XLE Sport Utility 4-Door
2.5L 2494CC 152Cu. In. l4 GAS DOHC Naturally Aspirated
2014
Toyota
RAV4
XLE Sport Utility 4-Door
2.5L 2500CC 153Cu. In. l4 GAS DOHC Naturally Aspirated
2013
Chevrolet
Colorado
LT Crew Cab Pickup 4-Door
3.6L 3564CC 217Cu. In. V6 GAS DOHC Naturally Aspirated
2013
Chevrolet
Silverado 1500
Base Standard Cab Pickup 2-Door
4.3L 4300CC 262Cu. In. V6 GAS SOHC Naturally Aspirated
2013
Chevrolet
Silverado 1500
Hybrid Crew Cab Pickup 4-Door
6.0L 5967CC 364Cu. In. V8 ELECTRIC/FLEX OHV Naturally Aspirated
2013
Chevrolet
Silverado 1500
LS Crew Cab Pickup 4-Door
4.8L 294Cu. In. V8 FLEX OHV Naturally Aspirated
2013
Chevrolet
Silverado 1500
LS Crew Cab Pickup 4-Door
5.3L 5328CC 325Cu. In. V8 FLEX OHV Naturally Aspirated
2013
Chevrolet
Silverado 1500
LS Extended Cab Pickup 4-Door
4.8L 294Cu. In. V8 FLEX OHV Naturally Aspirated
2013
Chevrolet
Silverado 1500
LS Extended Cab Pickup 4-Door
5.3L 5328CC 325Cu. In. V8 FLEX OHV Naturally Aspirated
2013
Chevrolet
Silverado 1500
LT Crew Cab Pickup 4-Door
4.8L 294Cu. In. V8 FLEX OHV Naturally Aspirated
2013
Chevrolet
Silverado 1500
LT Crew Cab Pickup 4-Door
5.3L 5328CC 325Cu. In. V8 FLEX OHV Naturally Aspirated
2013
Chevrolet
Silverado 1500
LT Crew Cab Pickup 4-Door
6.2L 6162CC 376Cu. In. V8 FLEX OHV Naturally Aspirated
2013
Chevrolet
Silverado 1500
LT Extended Cab Pickup 4-Door
4.8L 294Cu. In. V8 FLEX OHV Naturally Aspirated
2013
Chevrolet
Silverado 1500
LT Extended Cab Pickup 4-Door
5.3L 5328CC 325Cu. In. V8 FLEX OHV Naturally Aspirated
2013
Chevrolet
Silverado 1500
LT Extended Cab Pickup 4-Door
6.2L 6162CC 376Cu. In. V8 FLEX OHV Naturally Aspirated
2013
Chevrolet
Silverado 1500
LT Standard Cab Pickup 2-Door
4.8L 294Cu. In. V8 FLEX OHV Naturally Aspirated
2013
Chevrolet
Silverado 1500
LT Standard Cab Pickup 2-Door
5.3L 5328CC 325Cu. In. V8 FLEX OHV Naturally Aspirated
2013
Chevrolet
Silverado 1500
LT Standard Cab Pickup 2-Door
6.2L 6162CC 376Cu. In. V8 FLEX OHV Naturally Aspirated
2013
Chevrolet
Silverado 1500
LTZ Crew Cab Pickup 4-Door
5.3L 5328CC 325Cu. In. V8 FLEX OHV Naturally Aspirated
2013
Chevrolet
Silverado 1500
LTZ Crew Cab Pickup 4-Door
6.2L 6162CC 376Cu. In. V8 FLEX OHV Naturally Aspirated
2013
Chevrolet
Silverado 1500
LTZ Extended Cab Pickup 4-Door
5.3L 5328CC 325Cu. In. V8 FLEX OHV Naturally Aspirated
2013
Chevrolet
Silverado 1500
LTZ Extended Cab Pickup 4-Door
6.2L 6162CC 376Cu. In. V8 FLEX OHV Naturally Aspirated
2013
Chevrolet
Silverado 1500
WT Crew Cab Pickup 4-Door
4.3L 4293CC 262Cu. In. V6 GAS OHV Naturally Aspirated
2013
Chevrolet
Silverado 1500
WT Crew Cab Pickup 4-Door
4.8L 294Cu. In. V8 FLEX OHV Naturally Aspirated
2013
Chevrolet
Silverado 1500
WT Crew Cab Pickup 4-Door
5.3L 5328CC 325Cu. In. V8 FLEX OHV Naturally Aspirated
2013
Chevrolet
Silverado 1500
WT Extended Cab Pickup 4-Door
4.3L 4293CC 262Cu. In. V6 GAS OHV Naturally Aspirated
2013
Chevrolet
Silverado 1500
WT Extended Cab Pickup 4-Door
4.8L 294Cu. In. V8 FLEX OHV Naturally Aspirated
2013
Chevrolet
Silverado 1500
WT Extended Cab Pickup 4-Door
5.3L 5328CC 325Cu. In. V8 FLEX OHV Naturally Aspirated
2013
Chevrolet
Silverado 1500
WT Standard Cab Pickup 2-Door
4.3L 4293CC 262Cu. In. V6 GAS OHV Naturally Aspirated
2013
Chevrolet
Silverado 1500
WT Standard Cab Pickup 2-Door
4.8L 294Cu. In. V8 FLEX OHV Naturally Aspirated
2013
Chevrolet
Silverado 1500
WT Standard Cab Pickup 2-Door
5.3L 5328CC 325Cu. In. V8 FLEX OHV Naturally Aspirated
2013
Chevrolet
Silverado 1500
XFE Crew Cab Pickup 4-Door
5.3L 5328CC 325Cu. In. V8 FLEX OHV Naturally Aspirated
2013
Chevrolet
Suburban 1500
LS Sport Utility 4-Door
5.3L 5328CC 325Cu. In. V8 FLEX OHV Naturally Aspirated
2013
Chevrolet
Suburban 1500
LT Sport Utility 4-Door
5.3L 5328CC 325Cu. In. V8 FLEX OHV Naturally Aspirated
2013
Chevrolet
Suburban 1500
LT Sport Utility 4-Door
5.3L 5328CC 325Cu. In. V8 GAS OHV Naturally Aspirated
2013
Chevrolet
Suburban 1500
LT Sport Utility 4-Door
6.0L 5967CC 364Cu. In. V8 GAS OHV Naturally Aspirated
2013
Chevrolet
Suburban 1500
LTZ Sport Utility 4-Door
5.3L 5328CC 325Cu. In. V8 FLEX OHV Naturally Aspirated
2013
Dodge
Avenger
GTS Sedan 4-Door
2.4L 2360CC 144Cu. In. l4 GAS DOHC Naturally Aspirated
2013
Dodge
Avenger
R/T Sedan 4-Door
3.6L 3604CC 220Cu. In. V6 FLEX DOHC Naturally Aspirated
2013
Dodge
Avenger
SE Canada Value Package Sedan 4-Door
2.4L 2360CC 144Cu. In. l4 GAS DOHC Naturally Aspirated
2013
Dodge
Avenger
SE Canada Value Package Sedan 4-Door
3.6L 3604CC 220Cu. In. V6 FLEX DOHC Naturally Aspirated
2013
Dodge
Avenger
SE Sedan 4-Door
2.4L 2360CC 144Cu. In. l4 GAS DOHC Naturally Aspirated
2013
Dodge
Avenger
SE Sedan 4-Door
3.6L 3604CC 220Cu. In. V6 FLEX DOHC Naturally Aspirated
2013
Dodge
Avenger
SXT Plus Sedan 4-Door
2.4L 2360CC 144Cu. In. l4 GAS DOHC Naturally Aspirated
2013
Dodge
Avenger
SXT Sedan 4-Door
2.4L 2360CC 144Cu. In. l4 GAS DOHC Naturally Aspirated
2013
Dodge
Avenger
SXT Sedan 4-Door
3.6L 3604CC 220Cu. In. V6 FLEX DOHC Naturally Aspirated
2013
Dodge
Challenger
R/T Classic Coupe 2-Door
5.7L 345Cu. In. V8 GAS OHV Naturally Aspirated
2013
Dodge
Challenger
R/T Coupe 2-Door
5.7L 345Cu. In. V8 GAS OHV Naturally Aspirated
2013
Dodge
Challenger
Rallye Redline Coupe 2-Door
3.6L 3604CC 220Cu. In. V6 GAS DOHC Naturally Aspirated
2013
Dodge
Challenger
SRT8 Coupe 2-Door
6.4L 6424CC 392Cu. In. V8 GAS OHV Naturally Aspirated
2013
Dodge
Challenger
SXT Coupe 2-Door
3.6L 3604CC 220Cu. In. V6 FLEX DOHC Naturally Aspirated
2013
Dodge
Challenger
SXT Coupe 2-Door
3.6L 3604CC 220Cu. In. V6 GAS DOHC Naturally Aspirated
2013
Dodge
Challenger
SXT Plus Coupe 2-Door
3.6L 3604CC 220Cu. In. V6 FLEX DOHC Naturally Aspirated
2013
Dodge
Journey
AVP Sport Utility 4-Door
2.4L 2360CC 144Cu. In. l4 GAS DOHC Naturally Aspirated
2013
Dodge
Journey
Canada Value Package Sport Utility 4-Door
2.4L 2360CC 144Cu. In. l4 GAS DOHC Naturally Aspirated
2013
Dodge
Journey
Crew Sport Utility 4-Door
3.6L 3604CC 220Cu. In. V6 FLEX DOHC Naturally Aspirated
2013
Dodge
Journey
R/T Rallye Sport Utility 4-Door
3.6L 3604CC 220Cu. In. V6 FLEX DOHC Naturally Aspirated
2013
Dodge
Journey
R/T Sport Utility 4-Door
3.6L 3604CC 220Cu. In. V6 FLEX DOHC Naturally Aspirated
2013
Dodge
Journey
R/T Sport Utility 4-Door
3.6L 3605CC 220Cu. In. V6 GAS DOHC Naturally Aspirated
2013
Dodge
Journey
SE Plus Sport Utility 4-Door
2.4L 2360CC 144Cu. In. l4 GAS DOHC Naturally Aspirated
2013
Dodge
Journey
SE Sport Utility 4-Door
2.4L 2360CC 144Cu. In. l4 GAS DOHC Naturally Aspirated
2013
Dodge
Journey
SXT Sport Utility 4-Door
2.4L 2360CC 144Cu. In. l4 GAS DOHC Naturally Aspirated
2013
Dodge
Journey
SXT Sport Utility 4-Door
3.6L 3604CC 220Cu. In. V6 FLEX DOHC Naturally Aspirated
2013
Toyota
4Runner
Limited Sport Utility 4-Door
4.0L 3956CC 241Cu. In. V6 GAS DOHC Naturally Aspirated
2013
Toyota
4Runner
SR5 Sport Utility 4-Door
4.0L 3956CC 241Cu. In. V6 GAS DOHC Naturally Aspirated
2013
Toyota
4Runner
Trail Sport Utility 4-Door
4.0L 3956CC 241Cu. In. V6 GAS DOHC Naturally Aspirated
2013
Toyota
Highlander
Base Premium Sport Utility 4-Door
3.5L 3500CC 214Cu. In. V6 GAS DOHC Naturally Aspirated
2013
Toyota
Highlander
Base Sport Utility 4-Door
2.7L 2672CC 163Cu. In. l4 GAS DOHC Naturally Aspirated
2013
Toyota
Highlander
Base Sport Utility 4-Door
3.5L 3456CC V6 GAS DOHC Naturally Aspirated
2013
Toyota
Highlander
Hybrid Limited Sport Utility 4-Door
3.5L 3456CC V6 ELECTRIC/GAS DOHC Naturally Aspirated
2013
Toyota
Highlander
Hybrid Sport Utility 4-Door
3.5L 3456CC V6 ELECTRIC/GAS DOHC Naturally Aspirated
2013
Toyota
Highlander
Limited Sport Utility 4-Door
3.5L 3456CC V6 GAS DOHC Naturally Aspirated
2013
Toyota
Highlander
Plus Sport Utility 4-Door
2.7L 2672CC 163Cu. In. l4 GAS DOHC Naturally Aspirated
2013
Toyota
Highlander
Plus Sport Utility 4-Door
3.5L 3456CC V6 GAS DOHC Naturally Aspirated
2013
Toyota
Highlander
SE Sport Utility 4-Door
3.5L 3456CC V6 GAS DOHC Naturally Aspirated
2013
Toyota
Highlander
Sport Premium Sport Utility 4-Door
3.5L 3500CC 214Cu. In. V6 GAS DOHC Naturally Aspirated
2013
Toyota
Land Cruiser
Base Sport Utility 4-Door
5.7L 5663CC 345Cu. In. V8 GAS DOHC Naturally Aspirated
2013
Toyota
Land Cruiser
VX Sport Utility 4-Door
5.7L 5700CC 348Cu. In. V8 GAS DOHC Naturally Aspirated
2013
Toyota
RAV4
EV Sport Utility 4-Door
ELECTRIC
2013
Toyota
RAV4
LE Sport Utility 4-Door
2.5L 2494CC 152Cu. In. l4 GAS DOHC Naturally Aspirated
2013
Toyota
RAV4
LE Sport Utility 4-Door
2.5L 2500CC 153Cu. In. l4 GAS DOHC Naturally Aspirated
2013
Toyota
RAV4
Limited Platinum Sport Utility 4-Door
2.5L 2500CC 153Cu. In. l4 GAS DOHC Naturally Aspirated
2013
Toyota
RAV4
Limited Sport Utility 4-Door
2.5L 2494CC 152Cu. In. l4 GAS DOHC Naturally Aspirated
2013
Toyota
RAV4
Limited Sport Utility 4-Door
2.5L 2500CC 153Cu. In. l4 GAS DOHC Naturally Aspirated
2013
Toyota
RAV4
XLE Sport Utility 4-Door
2.5L 2494CC 152Cu. In. l4 GAS DOHC Naturally Aspirated
2013
Toyota
RAV4
XLE Sport Utility 4-Door
2.5L 2500CC 153Cu. In. l4 GAS DOHC Naturally Aspirated
2012
Chevrolet
Colorado
Base Crew Cab Pickup 4-Door
2.9L 2921CC 178Cu. In. l4 GAS DOHC Naturally Aspirated
2012
Chevrolet
Colorado
Base Crew Cab Pickup 4-Door
3.7L 3654CC 223Cu. In. l5 GAS DOHC Naturally Aspirated
2012
Chevrolet
Colorado
LT Crew Cab Pickup 4-Door
2.9L 2921CC 178Cu. In. l4 GAS DOHC Naturally Aspirated
2012
Chevrolet
Colorado
LT Crew Cab Pickup 4-Door
3.7L 3654CC 223Cu. In. l5 GAS DOHC Naturally Aspirated
2012
Chevrolet
Colorado
LT Crew Cab Pickup 4-Door
5.3L 5328CC 325Cu. In. V8 GAS OHV Naturally Aspirated
2012
Chevrolet
Colorado
LT Extended Cab Pickup 4-Door
2.9L 2921CC 178Cu. In. l4 GAS DOHC Naturally Aspirated
2012
Chevrolet
Colorado
LT Extended Cab Pickup 4-Door
3.7L 3654CC 223Cu. In. l5 GAS DOHC Naturally Aspirated
2012
Chevrolet
Colorado
LT Extended Cab Pickup 4-Door
5.3L 5328CC 325Cu. In. V8 GAS OHV Naturally Aspirated
2012
Chevrolet
Colorado
LT Standard Cab Pickup 2-Door
2.9L 2921CC 178Cu. In. l4 GAS DOHC Naturally Aspirated
2012
Chevrolet
Colorado
LT Standard Cab Pickup 2-Door
3.7L 3654CC 223Cu. In. l5 GAS DOHC Naturally Aspirated
2012
Chevrolet
Colorado
LT Standard Cab Pickup 2-Door
5.3L 5328CC 325Cu. In. V8 GAS OHV Naturally Aspirated
2012
Chevrolet
Colorado
WT Cab and Chassis 2-Door
2.9L 2921CC 178Cu. In. l4 GAS DOHC Naturally Aspirated
2012
Chevrolet
Colorado
WT Cab and Chassis 2-Door
3.7L 3654CC 223Cu. In. l5 GAS DOHC Naturally Aspirated
2012
Chevrolet
Colorado
WT Extended Cab Pickup 4-Door
2.9L 2921CC 178Cu. In. l4 GAS DOHC Naturally Aspirated
2012
Chevrolet
Colorado
WT Extended Cab Pickup 4-Door
3.7L 3654CC 223Cu. In. l5 GAS DOHC Naturally Aspirated
2012
Chevrolet
Colorado
WT Standard Cab Pickup 2-Door
2.9L 2921CC 178Cu. In. l4 GAS DOHC Naturally Aspirated
2012
Chevrolet
Colorado
WT Standard Cab Pickup 2-Door
3.7L 3654CC 223Cu. In. l5 GAS DOHC Naturally Aspirated
2012
Chevrolet
Silverado 1500
Base Standard Cab Pickup 2-Door
4.3L 4300CC 262Cu. In. V6 GAS SOHC Naturally Aspirated
2012
Chevrolet
Silverado 1500
Hybrid Crew Cab Pickup 4-Door
6.0L 5967CC 364Cu. In. V8 ELECTRIC/FLEX OHV Naturally Aspirated
2012
Chevrolet
Silverado 1500
LS Crew Cab Pickup 4-Door
4.8L 294Cu. In. V8 FLEX OHV Naturally Aspirated
2012
Chevrolet
Silverado 1500
LS Crew Cab Pickup 4-Door
5.3L 5328CC 325Cu. In. V8 FLEX OHV Naturally Aspirated
2012
Chevrolet
Silverado 1500
LS Extended Cab Pickup 4-Door
4.8L 294Cu. In. V8 FLEX OHV Naturally Aspirated
2012
Chevrolet
Silverado 1500
LS Extended Cab Pickup 4-Door
5.3L 5328CC 325Cu. In. V8 FLEX OHV Naturally Aspirated
2012
Chevrolet
Silverado 1500
LT Crew Cab Pickup 4-Door
4.8L 294Cu. In. V8 FLEX OHV Naturally Aspirated
2012
Chevrolet
Silverado 1500
LT Crew Cab Pickup 4-Door
5.3L 5328CC 325Cu. In. V8 FLEX OHV Naturally Aspirated
2012
Chevrolet
Silverado 1500
LT Crew Cab Pickup 4-Door
6.2L 6162CC 376Cu. In. V8 FLEX OHV Naturally Aspirated
2012
Chevrolet
Silverado 1500
LT Extended Cab Pickup 4-Door
4.8L 294Cu. In. V8 FLEX OHV Naturally Aspirated
2012
Chevrolet
Silverado 1500
LT Extended Cab Pickup 4-Door
5.3L 5328CC 325Cu. In. V8 FLEX OHV Naturally Aspirated
2012
Chevrolet
Silverado 1500
LT Extended Cab Pickup 4-Door
6.2L 6162CC 376Cu. In. V8 FLEX OHV Naturally Aspirated
2012
Chevrolet
Silverado 1500
LT Standard Cab Pickup 2-Door
4.8L 294Cu. In. V8 FLEX OHV Naturally Aspirated
2012
Chevrolet
Silverado 1500
LT Standard Cab Pickup 2-Door
5.3L 5328CC 325Cu. In. V8 FLEX OHV Naturally Aspirated
2012
Chevrolet
Silverado 1500
LT Standard Cab Pickup 2-Door
6.2L 6162CC 376Cu. In. V8 FLEX OHV Naturally Aspirated
2012
Chevrolet
Silverado 1500
LTZ Crew Cab Pickup 4-Door
5.3L 5328CC 325Cu. In. V8 FLEX OHV Naturally Aspirated
2012
Chevrolet
Silverado 1500
LTZ Crew Cab Pickup 4-Door
6.2L 6162CC 376Cu. In. V8 FLEX OHV Naturally Aspirated
2012
Chevrolet
Silverado 1500
LTZ Extended Cab Pickup 4-Door
5.3L 5328CC 325Cu. In. V8 FLEX OHV Naturally Aspirated
2012
Chevrolet
Silverado 1500
LTZ Extended Cab Pickup 4-Door
6.2L 6162CC 376Cu. In. V8 FLEX OHV Naturally Aspirated
2012
Chevrolet
Silverado 1500
WT Crew Cab Pickup 4-Door
4.3L 262Cu. In. V6 GAS OHV Naturally Aspirated
2012
Chevrolet
Silverado 1500
WT Crew Cab Pickup 4-Door
4.8L 294Cu. In. V8 FLEX OHV Naturally Aspirated
2012
Chevrolet
Silverado 1500
WT Crew Cab Pickup 4-Door
5.3L 5328CC 325Cu. In. V8 FLEX OHV Naturally Aspirated
2012
Chevrolet
Silverado 1500
WT Extended Cab Pickup 4-Door
4.3L 262Cu. In. V6 GAS OHV Naturally Aspirated
2012
Chevrolet
Silverado 1500
WT Extended Cab Pickup 4-Door
4.8L 294Cu. In. V8 FLEX OHV Naturally Aspirated
2012
Chevrolet
Silverado 1500
WT Extended Cab Pickup 4-Door
5.3L 5328CC 325Cu. In. V8 FLEX OHV Naturally Aspirated
2012
Chevrolet
Silverado 1500
WT Standard Cab Pickup 2-Door
4.3L 262Cu. In. V6 GAS OHV Naturally Aspirated
2012
Chevrolet
Silverado 1500
WT Standard Cab Pickup 2-Door
4.8L 294Cu. In. V8 FLEX OHV Naturally Aspirated
2012
Chevrolet
Silverado 1500
WT Standard Cab Pickup 2-Door
5.3L 5328CC 325Cu. In. V8 FLEX OHV Naturally Aspirated
2012
Chevrolet
Silverado 1500
XFE Crew Cab Pickup 4-Door
5.3L 5328CC 325Cu. In. V8 FLEX OHV Naturally Aspirated
2012
Chevrolet
Suburban 1500
Base Sport Utility 4-Door
5.3L 5328CC 325Cu. In. V8 GAS OHV Naturally Aspirated
2012
Chevrolet
Suburban 1500
Base Sport Utility 4-Door
6.0L 6000CC 366Cu. In. V8 GAS OHV Naturally Aspirated
2012
Chevrolet
Suburban 1500
LS Sport Utility 4-Door
5.3L 5328CC 325Cu. In. V8 FLEX OHV Naturally Aspirated
2012
Chevrolet
Suburban 1500
LT Sport Utility 4-Door
5.3L 5328CC 325Cu. In. V8 FLEX OHV Naturally Aspirated
2012
Chevrolet
Suburban 1500
LTZ Sport Utility 4-Door
5.3L 5328CC 325Cu. In. V8 FLEX OHV Naturally Aspirated
2012
Dodge
Avenger
Canada Value Package Sedan 4-Door
2.4L 2360CC 144Cu. In. l4 GAS DOHC Naturally Aspirated
2012
Dodge
Avenger
R/T Sedan 4-Door
3.6L 3604CC 220Cu. In. V6 FLEX DOHC Naturally Aspirated
2012
Dodge
Avenger
SE Sedan 4-Door
2.4L 2360CC 144Cu. In. l4 GAS DOHC Naturally Aspirated
2012
Dodge
Avenger
SE Sedan 4-Door
3.6L 3604CC 220Cu. In. V6 FLEX DOHC Naturally Aspirated
2012
Dodge
Avenger
SXT Plus Sedan 4-Door
3.6L 3604CC 220Cu. In. V6 FLEX DOHC Naturally Aspirated
2012
Dodge
Avenger
SXT Sedan 4-Door
2.4L 2360CC 144Cu. In. l4 GAS DOHC Naturally Aspirated
2012
Dodge
Challenger
R/T Classic Coupe 2-Door
5.7L 345Cu. In. V8 GAS OHV Naturally Aspirated
2012
Dodge
Challenger
R/T Coupe 2-Door
5.7L 345Cu. In. V8 GAS OHV Naturally Aspirated
2012
Dodge
Challenger
RT Coupe 2-Door
5.7L 5654CC 345Cu. In. V8 GAS OHV Naturally Aspirated
2012
Dodge
Challenger
SRT Coupe 2-Door
6.4L 6424CC 392Cu. In. V8 GAS OHV Naturally Aspirated
2012
Dodge
Challenger
SRT8 Coupe 2-Door
6.4L 6424CC 392Cu. In. V8 GAS OHV Naturally Aspirated
2012
Dodge
Challenger
SXT Coupe 2-Door
3.6L 3604CC 220Cu. In. V6 FLEX DOHC Naturally Aspirated
2012
Dodge
Challenger
SXT Plus Coupe 2-Door
3.6L 3604CC 220Cu. In. V6 FLEX DOHC Naturally Aspirated
2012
Dodge
Journey
AVP Sport Utility 4-Door
2.4L 2360CC 144Cu. In. l4 GAS DOHC Naturally Aspirated
2012
Dodge
Journey
Canada Value Package Sport Utility 4-Door
2.4L 2360CC 144Cu. In. l4 GAS DOHC Naturally Aspirated
2012
Dodge
Journey
Crew Sport Utility 4-Door
3.6L 3604CC 220Cu. In. V6 FLEX DOHC Naturally Aspirated
2012
Dodge
Journey
R/T Sport Utility 4-Door
3.6L 3604CC 220Cu. In. V6 FLEX DOHC Naturally Aspirated
2012
Dodge
Journey
R/T Sport Utility 4-Door
3.6L 3605CC 220Cu. In. V6 GAS DOHC Naturally Aspirated
2012
Dodge
Journey
SE Plus Sport Utility 4-Door
2.4L 2360CC 144Cu. In. l4 GAS DOHC Naturally Aspirated
2012
Dodge
Journey
SE Sport Utility 4-Door
2.4L 2360CC 144Cu. In. l4 GAS DOHC Naturally Aspirated
2012
Dodge
Journey
SXT Premium Sport Utility 4-Door
3.6L 3605CC 220Cu. In. V6 GAS DOHC Naturally Aspirated
2012
Dodge
Journey
SXT Sport Utility 4-Door
2.4L 2360CC 144Cu. In. l4 GAS DOHC Naturally Aspirated
2012
Dodge
Journey
SXT Sport Utility 4-Door
3.6L 3604CC 220Cu. In. V6 FLEX DOHC Naturally Aspirated
2012
Toyota
4Runner
Limited Sport Utility 4-Door
4.0L 3956CC 241Cu. In. V6 GAS DOHC Naturally Aspirated
2012
Toyota
4Runner
SR5 Sport Utility 4-Door
4.0L 3956CC 241Cu. In. V6 GAS DOHC Naturally Aspirated
2012
Toyota
4Runner
Trail Sport Utility 4-Door
4.0L 3956CC 241Cu. In. V6 GAS DOHC Naturally Aspirated
2012
Toyota
Highlander
Base Premium Sport Utility 4-Door
3.5L 3500CC 214Cu. In. V6 GAS DOHC Naturally Aspirated
2012
Toyota
Highlander
Base Sport Utility 4-Door
2.7L 2672CC 163Cu. In. l4 GAS DOHC Naturally Aspirated
2012
Toyota
Highlander
Base Sport Utility 4-Door
3.5L 3456CC V6 GAS DOHC Naturally Aspirated
2012
Toyota
Highlander
Hybrid Limited Sport Utility 4-Door
3.5L 3456CC V6 ELECTRIC/GAS DOHC Naturally Aspirated
2012
Toyota
Highlander
Hybrid Sport Utility 4-Door
3.5L 3456CC V6 ELECTRIC/GAS DOHC Naturally Aspirated
2012
Toyota
Highlander
Limited Sport Utility 4-Door
3.5L 3456CC V6 GAS DOHC Naturally Aspirated
2012
Toyota
Highlander
SE Sport Utility 4-Door
2.7L 2672CC 163Cu. In. l4 GAS DOHC Naturally Aspirated
2012
Toyota
Highlander
SE Sport Utility 4-Door
3.5L 3456CC V6 GAS DOHC Naturally Aspirated
2012
Toyota
Highlander
Sport Premium Sport Utility 4-Door
3.5L 3500CC 214Cu. In. V6 GAS DOHC Naturally Aspirated
2012
Toyota
RAV4
Base Sport Utility 4-Door
2.5L 2494CC 152Cu. In. l4 GAS DOHC Naturally Aspirated
2012
Toyota
RAV4
Base Sport Utility 4-Door
2.5L 2500CC 153Cu. In. l4 GAS DOHC Naturally Aspirated
2012
Toyota
RAV4
Base Sport Utility 4-Door
3.5L 3456CC V6 GAS DOHC Naturally Aspirated
2012
Toyota
RAV4
EV Sport Utility 4-Door
ELECTRIC
2012
Toyota
RAV4
Limited Sport Utility 4-Door
2.5L 2494CC 152Cu. In. l4 GAS DOHC Naturally Aspirated
2012
Toyota
RAV4
Limited Sport Utility 4-Door
3.5L 3456CC V6 GAS DOHC Naturally Aspirated
2012
Toyota
RAV4
Sport Sport Utility 4-Door
2.5L 2494CC 152Cu. In. l4 GAS DOHC Naturally Aspirated
2012
Toyota
RAV4
Sport Sport Utility 4-Door
2.5L 2500CC 153Cu. In. l4 GAS DOHC Naturally Aspirated
2012
Toyota
RAV4
Sport Sport Utility 4-Door
3.5L 3456CC V6 GAS DOHC Naturally Aspirated
2012
Toyota
RAV4
Sport Sport Utility 4-Door
3.5L 3500CC 214Cu. In. V6 GAS DOHC Naturally Aspirated
2011
Chevrolet
Colorado
Base Crew Cab Pickup 4-Door
2.9L 2921CC 178Cu. In. l4 GAS DOHC Naturally Aspirated
2011
Chevrolet
Colorado
Base Crew Cab Pickup 4-Door
3.7L 3654CC 223Cu. In. l5 GAS DOHC Naturally Aspirated
2011
Chevrolet
Colorado
LT Crew Cab Pickup 4-Door
2.9L 2921CC 178Cu. In. l4 GAS DOHC Naturally Aspirated
2011
Chevrolet
Colorado
LT Crew Cab Pickup 4-Door
3.7L 3654CC 223Cu. In. l5 GAS DOHC Naturally Aspirated
2011
Chevrolet
Colorado
LT Crew Cab Pickup 4-Door
5.3L 5328CC 325Cu. In. V8 GAS OHV Naturally Aspirated
2011
Chevrolet
Colorado
LT Extended Cab Pickup 4-Door
2.9L 2921CC 178Cu. In. l4 GAS DOHC Naturally Aspirated
2011
Chevrolet
Colorado
LT Extended Cab Pickup 4-Door
3.7L 3654CC 223Cu. In. l5 GAS DOHC Naturally Aspirated
2011
Chevrolet
Colorado
LT Extended Cab Pickup 4-Door
5.3L 5328CC 325Cu. In. V8 GAS OHV Naturally Aspirated
2011
Chevrolet
Colorado
LT Standard Cab Pickup 2-Door
2.9L 2921CC 178Cu. In. l4 GAS DOHC Naturally Aspirated
2011
Chevrolet
Colorado
LT Standard Cab Pickup 2-Door
3.7L 3654CC 223Cu. In. l5 GAS DOHC Naturally Aspirated
2011
Chevrolet
Colorado
LT Standard Cab Pickup 2-Door
5.3L 5328CC 325Cu. In. V8 GAS OHV Naturally Aspirated
2011
Chevrolet
Colorado
WT Cab and Chassis 2-Door
2.9L 2921CC 178Cu. In. l4 GAS DOHC Naturally Aspirated
2011
Chevrolet
Colorado
WT Cab and Chassis 2-Door
3.7L 3654CC 223Cu. In. l5 GAS DOHC Naturally Aspirated
2011
Chevrolet
Colorado
WT Extended Cab Pickup 4-Door
2.9L 2921CC 178Cu. In. l4 GAS DOHC Naturally Aspirated
2011
Chevrolet
Colorado
WT Extended Cab Pickup 4-Door
3.7L 3654CC 223Cu. In. l5 GAS DOHC Naturally Aspirated
2011
Chevrolet
Colorado
WT Standard Cab Pickup 2-Door
2.9L 2921CC 178Cu. In. l4 GAS DOHC Naturally Aspirated
2011
Chevrolet
Colorado
WT Standard Cab Pickup 2-Door
3.7L 3654CC 223Cu. In. l5 GAS DOHC Naturally Aspirated
2011
Chevrolet
Silverado 1500
Base Standard Cab Pickup 2-Door
4.3L 4300CC 262Cu. In. V6 GAS SOHC Naturally Aspirated
2011
Chevrolet
Silverado 1500
Hybrid Crew Cab Pickup 4-Door
6.0L 5967CC 364Cu. In. V8 ELECTRIC/FLEX OHV Naturally Aspirated
2011
Chevrolet
Silverado 1500
LS Crew Cab Pickup 4-Door
4.8L 294Cu. In. V8 FLEX OHV Naturally Aspirated
2011
Chevrolet
Silverado 1500
LS Crew Cab Pickup 4-Door
5.3L 5328CC 325Cu. In. V8 FLEX OHV Naturally Aspirated
2011
Chevrolet
Silverado 1500
LS Extended Cab Pickup 4-Door
4.8L 294Cu. In. V8 FLEX OHV Naturally Aspirated
2011
Chevrolet
Silverado 1500
LS Extended Cab Pickup 4-Door
5.3L 5328CC 325Cu. In. V8 FLEX OHV Naturally Aspirated
2011
Chevrolet
Silverado 1500
LT Crew Cab Pickup 4-Door
4.8L 294Cu. In. V8 FLEX OHV Naturally Aspirated
2011
Chevrolet
Silverado 1500
LT Crew Cab Pickup 4-Door
5.3L 5328CC 325Cu. In. V8 FLEX OHV Naturally Aspirated
2011
Chevrolet
Silverado 1500
LT Crew Cab Pickup 4-Door
6.2L 6162CC 376Cu. In. V8 FLEX OHV Naturally Aspirated
2011
Chevrolet
Silverado 1500
LT Extended Cab Pickup 4-Door
4.8L 294Cu. In. V8 FLEX OHV Naturally Aspirated
2011
Chevrolet
Silverado 1500
LT Extended Cab Pickup 4-Door
5.3L 5328CC 325Cu. In. V8 FLEX OHV Naturally Aspirated
2011
Chevrolet
Silverado 1500
LT Extended Cab Pickup 4-Door
6.2L 6162CC 376Cu. In. V8 FLEX OHV Naturally Aspirated
2011
Chevrolet
Silverado 1500
LT Standard Cab Pickup 2-Door
4.8L 294Cu. In. V8 FLEX OHV Naturally Aspirated
2011
Chevrolet
Silverado 1500
LT Standard Cab Pickup 2-Door
5.3L 5328CC 325Cu. In. V8 FLEX OHV Naturally Aspirated
2011
Chevrolet
Silverado 1500
LT Standard Cab Pickup 2-Door
6.2L 6162CC 376Cu. In. V8 FLEX OHV Naturally Aspirated
2011
Chevrolet
Silverado 1500
LTZ Crew Cab Pickup 4-Door
5.3L 5328CC 325Cu. In. V8 FLEX OHV Naturally Aspirated
2011
Chevrolet
Silverado 1500
LTZ Crew Cab Pickup 4-Door
6.2L 6162CC 376Cu. In. V8 FLEX OHV Naturally Aspirated
2011
Chevrolet
Silverado 1500
LTZ Extended Cab Pickup 4-Door
5.3L 5328CC 325Cu. In. V8 FLEX OHV Naturally Aspirated
2011
Chevrolet
Silverado 1500
LTZ Extended Cab Pickup 4-Door
6.2L 6162CC 376Cu. In. V8 FLEX OHV Naturally Aspirated
2011
Chevrolet
Silverado 1500
WT Crew Cab Pickup 4-Door
4.3L 262Cu. In. V6 GAS OHV Naturally Aspirated
2011
Chevrolet
Silverado 1500
WT Crew Cab Pickup 4-Door
4.8L 294Cu. In. V8 FLEX OHV Naturally Aspirated
2011
Chevrolet
Silverado 1500
WT Crew Cab Pickup 4-Door
5.3L 5328CC 325Cu. In. V8 FLEX OHV Naturally Aspirated
2011
Chevrolet
Silverado 1500
WT Extended Cab Pickup 4-Door
4.3L 262Cu. In. V6 GAS OHV Naturally Aspirated
2011
Chevrolet
Silverado 1500
WT Extended Cab Pickup 4-Door
4.8L 294Cu. In. V8 FLEX OHV Naturally Aspirated
2011
Chevrolet
Silverado 1500
WT Extended Cab Pickup 4-Door
5.3L 5328CC 325Cu. In. V8 FLEX OHV Naturally Aspirated
2011
Chevrolet
Silverado 1500
WT Standard Cab Pickup 2-Door
4.3L 262Cu. In. V6 GAS OHV Naturally Aspirated
2011
Chevrolet
Silverado 1500
WT Standard Cab Pickup 2-Door
4.8L 294Cu. In. V8 FLEX OHV Naturally Aspirated
2011
Chevrolet
Silverado 1500
WT Standard Cab Pickup 2-Door
5.3L 5328CC 325Cu. In. V8 FLEX OHV Naturally Aspirated
2011
Chevrolet
Silverado 1500
XFE Crew Cab Pickup 4-Door
5.3L 5328CC 325Cu. In. V8 FLEX OHV Naturally Aspirated
2011
Chevrolet
Suburban 1500
Base Sport Utility 4-Door
5.3L 5328CC 325Cu. In. V8 GAS OHV Naturally Aspirated
2011
Chevrolet
Suburban 1500
Base Sport Utility 4-Door
6.0L 6000CC 366Cu. In. V8 GAS OHV Naturally Aspirated
2011
Chevrolet
Suburban 1500
LS Sport Utility 4-Door
5.3L 5328CC 325Cu. In. V8 FLEX OHV Naturally Aspirated
2011
Chevrolet
Suburban 1500
LT Sport Utility 4-Door
5.3L 5328CC 325Cu. In. V8 FLEX OHV Naturally Aspirated
2011
Chevrolet
Suburban 1500
LTZ Sport Utility 4-Door
5.3L 5328CC 325Cu. In. V8 FLEX OHV Naturally Aspirated
2011
Dodge
Avenger
Express Sedan 4-Door
2.4L 2360CC 144Cu. In. l4 GAS DOHC Naturally Aspirated
2011
Dodge
Avenger
Express Sedan 4-Door
3.6L 3604CC 220Cu. In. V6 FLEX DOHC Naturally Aspirated
2011
Dodge
Avenger
Heat Sedan 4-Door
3.6L 3604CC 220Cu. In. V6 FLEX DOHC Naturally Aspirated
2011
Dodge
Avenger
Lux Sedan 4-Door
2.4L 2360CC 144Cu. In. l4 GAS DOHC Naturally Aspirated
2011
Dodge
Avenger
Lux Sedan 4-Door
3.6L 3604CC 220Cu. In. V6 FLEX DOHC Naturally Aspirated
2011
Dodge
Avenger
Mainstreet Sedan 4-Door
2.4L 2360CC 144Cu. In. l4 GAS DOHC Naturally Aspirated
2011
Dodge
Avenger
Mainstreet Sedan 4-Door
3.6L 3604CC 220Cu. In. V6 FLEX DOHC Naturally Aspirated
2011
Dodge
Avenger
SE Canada Value Package Sedan 4-Door
2.4L 2360CC 144Cu. In. l4 GAS DOHC Naturally Aspirated
2011
Dodge
Avenger
SE Sedan 4-Door
2.4L 2360CC 144Cu. In. l4 GAS DOHC Naturally Aspirated
2011
Dodge
Avenger
SXT Plus Sedan 4-Door
3.6L 3604CC 220Cu. In. V6 FLEX DOHC Naturally Aspirated
2011
Dodge
Avenger
SXT Sedan 4-Door
2.4L 2360CC 144Cu. In. l4 GAS DOHC Naturally Aspirated
2011
Dodge
Avenger
SXT Sedan 4-Door
3.6L 3604CC 220Cu. In. V6 FLEX DOHC Naturally Aspirated
2011
Dodge
Journey
Canada Value Package Sport Utility 4-Door
2.4L 2360CC 144Cu. In. l4 GAS DOHC Naturally Aspirated
2011
Dodge
Journey
Crew Sport Utility 4-Door
3.6L 3604CC 220Cu. In. V6 FLEX DOHC Naturally Aspirated
2011
Dodge
Journey
Express Sport Utility 4-Door
2.4L 2360CC 144Cu. In. l4 GAS DOHC Naturally Aspirated
2011
Dodge
Journey
Lux Sport Utility 4-Door
3.6L 3604CC 220Cu. In. V6 FLEX DOHC Naturally Aspirated
2011
Dodge
Journey
Mainstreet Sport Utility 4-Door
3.6L 3604CC 220Cu. In. V6 FLEX DOHC Naturally Aspirated
2011
Dodge
Journey
R/T Sport Utility 4-Door
3.6L 3604CC 220Cu. In. V6 FLEX DOHC Naturally Aspirated
2011
Dodge
Journey
R/T Sport Utility 4-Door
3.6L 3605CC 220Cu. In. V6 GAS DOHC Naturally Aspirated
2011
Dodge
Journey
SE Plus Sport Utility 4-Door
2.4L 2360CC 144Cu. In. l4 GAS DOHC Naturally Aspirated
2011
Dodge
Journey
SE Sport Utility 4-Door
2.4L 2360CC 144Cu. In. l4 GAS DOHC Naturally Aspirated
2011
Dodge
Journey
SXT Premium Sport Utility 4-Door
3.6L 3605CC 220Cu. In. V6 GAS DOHC Naturally Aspirated
2011
Dodge
Journey
SXT Sport Utility 4-Door
2.4L 2360CC 144Cu. In. l4 GAS DOHC Naturally Aspirated
2011
Dodge
Journey
SXT Sport Utility 4-Door
3.6L 3604CC 220Cu. In. V6 FLEX DOHC Naturally Aspirated
2011
Toyota
4Runner
Limited Sport Utility 4-Door
4.0L 3956CC 241Cu. In. V6 GAS DOHC Naturally Aspirated
2011
Toyota
4Runner
SR5 Sport Utility 4-Door
4.0L 3956CC 241Cu. In. V6 GAS DOHC Naturally Aspirated
2011
Toyota
4Runner
Trail Sport Utility 4-Door
4.0L 3956CC 241Cu. In. V6 GAS DOHC Naturally Aspirated
2011
Toyota
Highlander
Base Premium Sport Utility 4-Door
3.5L 3500CC 214Cu. In. V6 GAS DOHC Naturally Aspirated
2011
Toyota
Highlander
Base Sport Utility 4-Door
2.7L 2672CC 163Cu. In. l4 GAS DOHC Naturally Aspirated
2011
Toyota
Highlander
Base Sport Utility 4-Door
3.5L 3456CC V6 GAS DOHC Naturally Aspirated
2011
Toyota
Highlander
Hybrid Limited Sport Utility 4-Door
3.5L 3456CC V6 ELECTRIC/GAS DOHC Naturally Aspirated
2011
Toyota
Highlander
Hybrid Sport Utility 4-Door
3.5L 3456CC V6 ELECTRIC/GAS DOHC Naturally Aspirated
2011
Toyota
Highlander
Limited Sport Utility 4-Door
3.5L 3456CC V6 GAS DOHC Naturally Aspirated
2011
Toyota
Highlander
Limited Sport Utility 4-Door
3.5L 3500CC 214Cu. In. V6 GAS DOHC Naturally Aspirated
2011
Toyota
Highlander
SE Sport Utility 4-Door
2.7L 2672CC 163Cu. In. l4 GAS DOHC Naturally Aspirated
2011
Toyota
Highlander
SE Sport Utility 4-Door
3.5L 3456CC V6 GAS DOHC Naturally Aspirated
2011
Toyota
Highlander
Sport Premium Sport Utility 4-Door
3.5L 3500CC 214Cu. In. V6 GAS DOHC Naturally Aspirated
2011
Toyota
Land Cruiser
Base Sport Utility 4-Door
5.7L 5663CC 345Cu. In. V8 GAS DOHC Naturally Aspirated
2011
Toyota
Land Cruiser
VX Sport Utility 4-Door
5.7L 5700CC 348Cu. In. V8 GAS DOHC Naturally Aspirated
2011
Toyota
RAV4
Base Sport Utility 4-Door
2.5L 2494CC 152Cu. In. l4 GAS DOHC Naturally Aspirated
2011
Toyota
RAV4
Base Sport Utility 4-Door
2.5L 2500CC 153Cu. In. l4 GAS DOHC Naturally Aspirated
2011
Toyota
RAV4
Base Sport Utility 4-Door
3.5L 3456CC V6 GAS DOHC Naturally Aspirated
2011
Toyota
RAV4
Limited Sport Utility 4-Door
2.5L 2494CC 152Cu. In. l4 GAS DOHC Naturally Aspirated
2011
Toyota
RAV4
Limited Sport Utility 4-Door
3.5L 3456CC V6 GAS DOHC Naturally Aspirated
2011