Description:
The car cover is often used when a vehicle is stored away for a certain amount of time, or when being left unused for a while. It can also be used to protect a vehicle against snow, tree juice, dirt, paint, and other contaminants. The YITAMOTOR Car Cover is among the best car covers on the market. It is designed with a five-layer, heavy-duty waterproof cover and three layers of polypropylene. This means that the cover offers superior protection from rain, bird droppings, and other sturdy weather conditions.
Features:
1.Outstanding in Rain, Ice, and Snowproof. high-quality materials, durable to use.
2.Durable in extreme weather conditions.100% Breathable.Can be used for Sunlight and UV reflection as well. 
3.Scratch-Resistant: Much softer and safer so as to 100% paint protection to your lovely car. 
4.Dustproof: It effectively prevents dust into the car, keeping the car inside and outside clean and tidy. Won't smell bad, with a high-quality Cover. 
5.Lightweight and Easy to wash and collect.  Environment Friendly!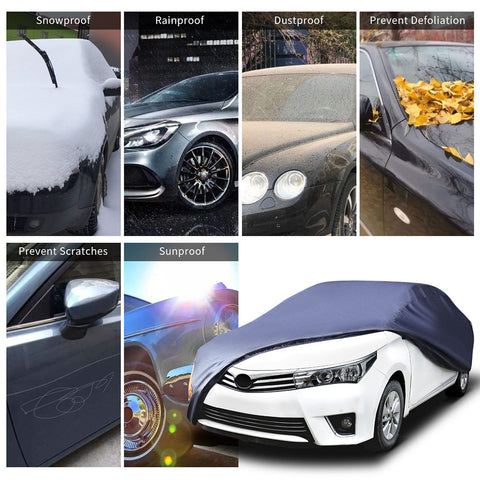 Shipping
Your items will be shipped from our 6 warehouses located in WA, CA, NJ, GA, NJ, TX, depend on your address. Read more here
1.Item processing time
After receiving your order, we will take some time to process the products to ensure their quality. In addition, the item's stock status will also affect our delivery. The specific processing time will vary for different products, the average processing time is 2 working days while larger quantity orders may require 2-5 days, but we guarantee that the order will be processed and shipped as soon as possible.
2. Shipping Methods and Shipping Time
YITAMOTOR has established 6 warehouses in the USA,and provides Free Shipping service in the whole united states except for states of HI, PR, AK, GU, and APO/FPO. Shipping from the warehouse nearest to shipping address to shorten delivery time. In order to improve our customer shopping experience, we promise NO ADDITIONAL CHARGES. If you purchase a pre-sale product, The order will be shipped within 1-2 working days when it is in stock.
Free Shipping

A

B

Shipping Methods

FEDEX Ground

FEDEX Home

Working Time

Mon. to Fri.

Mon. to Sun.

Delivery Time

3-7 Days

4-7 Days

Delivery to States
(A-Z)

Alabama, Arizona, Arkansas, California, Colorado, Connecticut, Delaware, Florida, Georgia, Idaho, Illinois, Indiana, Iowa, Kansas, Kentucky, Lousiana, Maine, Maryland,

 

Massachusetts, Michigan, Minnesota, Mississippi, Missouri, Montana, Nebraska,Nevada, New Hampshire, New Jersey, New Mexico, New York, North Carolina, North Dakota, Ohio, Oklahoma, Oregon, Pennsylvania, Rhode Island, South Carolina, South Dakota, Tennessee, Texas, Utah, Vermont, Virginia, Washington, West Virginia, Wisconsin, Wyoming.

 
Note: Shipment dates on all orders are estimated, delay may happen cause of force majeure, natural disasters, inclement weather, war, public holidays, and others out of our control factors.
Return
At Yitamotor, we're committed to you. Our quality control teams will inspect your items prior to shipping to assure your satisfaction, and the quality is guaranteed.
Read more here
Specification:
Brand

YITAMOTOR

Dimension

208.66"(L) x 68.9" (W) x 68.9" (H)

Color


Sliver

Material

190T 

Polyester Taffeta

Condition

100% brand new

Length

17ft

Package Includes

1 * 

Truck

 cover

1 * Storage bag

Warranty

1 Year