Features:
Curved blade design, so practical and professional for car using
You can use the fan as a puller or pusher,it depends on what you need.
It can be a perfect replacement for your original one.
Long use life, low noise, and high-performance flow.
Help to cool the entire engine bay, including the radiator, a/c system, intercooler, oil system, and transmission.
Specification:
Diameter: 10inch (Blade to Blade)
CFM (Maximum Fan Cubic Feet per Minute): 1750 cfm
RPM (Maximum Fan Revolutions) Per Minute ): 2250RPM
Amp Draw: 12.70amp
Voltage: 12V
Watts: 80W
Attention:
THIS PRODUCT RECOMMENDS PROFESSIONAL INSTALLATION.
INSTALLATION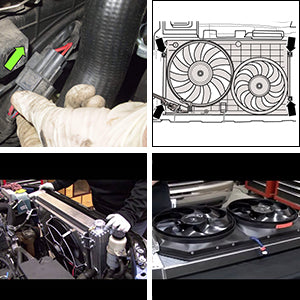 Things you'll need
1. Wrench set
2. Ratchet and socket set

Installation:
Step 1: For Electric Radiators, Disconnect Electrical Wiring. Confirm your radiator is electric or driven by a belt. If it's electric Unclip wires on the back of the radiator before continuing.
Step 2: Remove Radiator Fan Shroud.Using a wrench and/or ratchet and socket set, remove the bolts connecting the shroud to the radiator. Then lift the shroud straight up and off of the radiator to expose the fan. Please keep bolts to reinstall the new radiator fan.
Step 3: Remove the Old Fan.use your wrench and/or ratchet and socket set to remove the bolts or disassemble the fan clutch and fan assembly.
Step 4: Replace Radiator Fan.insert new fan into space where the old radiator fan was previously installed. Use the bolts that you unscrewed in the previous step to secure the new radiator fan in place. reattach the fan clutch and assembly if necessary.
Step 5: Reattach Electric Wires and Test.reattach the electrical wiring, lower the hood of your car, and test to make sure the new radiator fan is working properly.
Package Included:
1x 10'' Black Electric Radiator Cooling Fan Assembly Kit and installation instruction
Free shipping on all orders. No minimum purchase.
It normally takes 1-2 business days for us to process your order. Please note that this does not include holidays and weekends.
Shipping time will normally cost 2-8 business days. Shipping time is estimated and commences from the date of shipping, rather than the date of the order, and can take longer than expected date due to the invalid address, customs clearance procedures or other causes.
For large items such as bumpers, tonneau covers, we generally delivery by Fedex and P.O.Box will not be available for shipping.